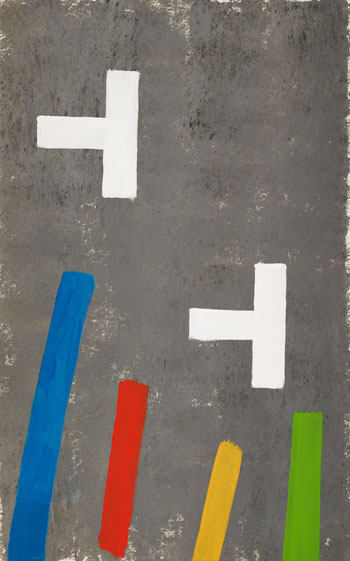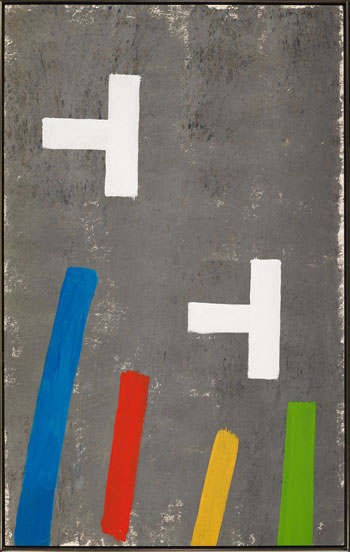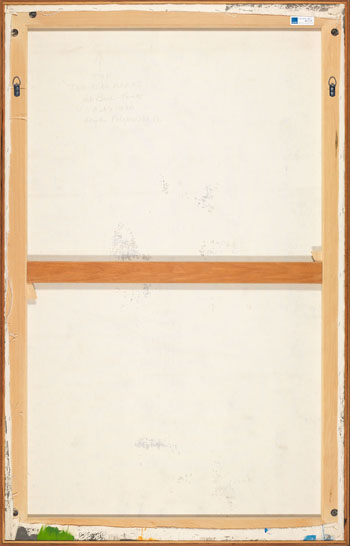 Lot # 035
Spring 2017 - 1st Session Live auction

Jack Hamilton Bush
ARCA CGP CSGA CSPWC OSA P11 1909 - 1977 Canadian

Two Road Marks
acrylic on canvas
on verso signed, titled, dated February 1970 and inscribed "Toronto" and "acrylic polymer W.B"
59 1/2 x 37 3/4 in 151.1 x 95.9cm

Provenance:
David Mirvish Gallery, Toronto
Private Collection, Toronto

Literature:
Charles Millard, "Jack Bush," The Hudson Review vol. 24, no. 1, Spring 1971, pages 149 and 150, reproduced page 150
Marc Mayer and Sarah Stanners, Jack Bush, National Gallery of Canada, 2014, Irish Rock #1 reproduced page 210 and Irish Rock #2 reproduced page 211

In March of 1969, Jack Bush traveled to Ireland, where he was inspired by highway markings and road signs. In Two Road Marks, Bush breaks apart the intersection imagery seen in his works Irish Rock #1 and Irish Rock #2 into floating rectilinear shapes reminiscent of T-junction or side road symbols. In addition to being one of the first works in which Bush used his mottled ground technique, Two Road Marks is an early example wherein Bush experiments with freeing his coloured stripes from one another and the edge of the canvas so that they, along with the road marks, float atop the canvas. Discussing the highway markings, Charles Millard wrote, "In almost every case, the conventionalized simplicity of these signs has provided him a ready-made image more powerful and less ambiguous than freely-created forms would be." As he had recently retired as a commercial artist to devote himself full time to painting and had received an alarming angina diagnosis, perhaps Bush felt as though he was at a crossroads in his life and work, making the road sign imagery all the more poignant.
This work will be included in Sarah Stanners's forthcoming Jack Bush Paintings: A Catalogue Raisonné.


Estimate:
$150,000 ~ $250,000 CAD
Sold for:
$601,250 CAD (including Buyer's Premium)

All prices are in Canadian Dollars.
Although great care has been taken to ensure the accuracy of the information posted, errors and omissions may occur. All bids are subject to our Terms and Conditions of Business.