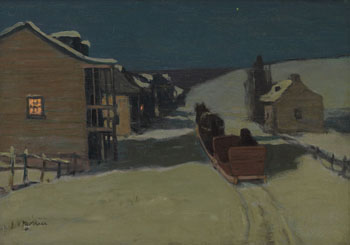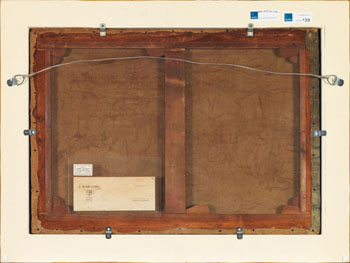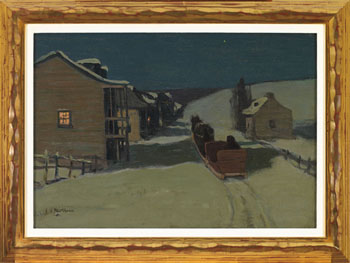 Lot # 127
Spring 2017 - 2nd Session Live auction

James Wilson Morrice
CAC RCA 1865 - 1924 Canadian

Landscape, Sainte-Anne-de-Beaupré
oil on canvas circa 1897
signed
18 3/8 x 25 3/4 in 46.7 x 65.4cm

Provenance:
Napoléon Filteau, Montreal
E. Languedoc, Montreal
G. Blair Laing Limited, Toronto
Acquired from the above by the present Private Collector, Toronto, March 18, 1966

Literature:
James Wilson Morrice letter to Edmund Morris, Yale University Library fonds
Donald W. Buchanan, James Wilson Morrice: A Biography, 1936, listed catalogue raisonée section, page 154
Lucie Dorais, James Wilson Morrice, peintre canadien (1865 - 1924): les années de formations, MA thesis, Université de Montréal, 1980, pages 133 - 142, 209 - 215 and 235 - 254

Undoubtedly at the insistence of his parents, who would have preferred that their son join the family firm, James Wilson Morrice first studied law at the University of Toronto, an apparently more respectable profession than that of an artist. Yet immediately after passing his bar exams, in 1890 Morrice left for England and subsequently Paris, where he would remain for the rest of his life. Art was his passion, but only in 1897 did his real talent begin to emerge.
From January to April 1897, while back in Canada, Morrice painted at Quebec City and on the coast of Beaupré, on the north shore of the St. Lawrence opposite Île d'Orléans. Here he painted with Maurice Cullen, recently returned from Paris and already an associate member of the new Salon or the Société nationale des beaux-arts. Morrice complained of the bitter cold: "30 below zero. Difficult to work out of doors – paint gets stiff." So he took down visual notes in a sketch pad, now in the collection of the National Gallery of Canada. Views of Quebec and Sainte-Anne-de-Beaupré are intermingled with drawings of the ice bridge on the St. Lawrence, ferries, snowbound farms, horses and a variety of sleighs. "I find Lower Canada much like France. The atmosphere is not so clear as it is around Toronto," he wrote to fellow artist Edmund Morris. And to Robert Henri he wrote, "The landscape is very quaint. They are very fond of painting their wooden houses in delicate colours & in fact use colour everywhere."
In her 1980 thesis, Lucie Dorais, compiler of the catalogue raisonné of Morrice's oeuvre, remarked upon the importance of nocturnes in Morrice's work in the mid-1890s. His exhibited subjects are variously identified as "early morning," "evening" and "nocturne," the times of day when the waxing and waning light is diffused, evoking a tranquil, poetic mood. Nocturnes, a term derived from music, were subjects most effectively treated by the Anglo-American artist James McNeill Whistler in the 1860s and 1870s. In his nocturnal views of ports and rivers, Whistler brushed diluted paint across the support, creating transparent veils that subordinated subject matter to the effects of modulated colour.
In the sketchbook Morrice used at Quebec City and Beaupré, the nocturnal effects are interpreted through rubbed graphite or in blue ink washes (Entrance to a Quebec Village in Winter). In his early nocturnes and in the 1897 canvas Quebec Citadel at Night (Musée national des beaux-arts du Québec), Morrice applied diluted paint thinly in a manner derived from Whistler. But in two canvases depicting sleighs on the outskirts of the village, Sainte-Anne-de-Beaupré and our painting, Landscape, Sainte-Anne-de-Beaupré, the paint covers the surface, allowing no visible trace of the support or ground. The two canvases are variants of the same theme, the former a broader view with the sleigh further in the distance and houses visible on the top of the hill under a grey-lavender sky. In the more intimate and synthesized Landscape, Sainte-Anne-de-Beaupré, a solitary foreground sleigh, somewhat out of proportion to the adjacent houses and slowly receding into the distance, is the only sign of life, save for the accents of light in the windows at the left. The clarity of the moonlight, cast from the left foreground, is superbly interpreted, emerging between the houses and illuminating the walls and snow-covered roofs and hill beyond. Olive green shadows break up the sleigh's meandering path, but it is above all the rich, dark blue sky that determines the nocturnal mood. An accomplished flautist as well as an artist, here Morrice plays with harmonies of tone, bathing his canvas in a tender glow, creating a floating rhythm evocative of the transience of life, nostalgia, and of a distant dream world of colour and light.
This superb jewel of a painting once belonged to Napoléon Filteau, to whom, as Donald Buchanan notes, Morrice gave another small canvas entitled Tilling the Fields. Filteau is listed in Lovell's Montreal Directories as a gilder in 1898 - 1899, a decorator in 1899 - 1900 and subsequently as foreman for W. Scott (later William Scott & Sons), Morrice's lifelong Canadian dealer. Undoubtedly the artist came to know Filteau on his regular visits from Paris to spend the Christmas holidays with his parents.
We thank Charles C. Hill, former curator of Canadian art from 1980 to 2014 at the National Gallery of Canada and author of Morrice: A Gift to the Nation, The G. Blair Laing Collection, for contributing the above essay.
We thank Lucie Dorais for her assistance in cataloguing this lot. Dorais is currently compiling a catalogue raisonné on the artist's works, in which this painting is included.


Estimate:
$400,000 ~ $600,000 CAD
Sold for:
$511,250 CAD (including Buyer's Premium)

All prices are in Canadian Dollars.
Although great care has been taken to ensure the accuracy of the information posted, errors and omissions may occur. All bids are subject to our Terms and Conditions of Business.