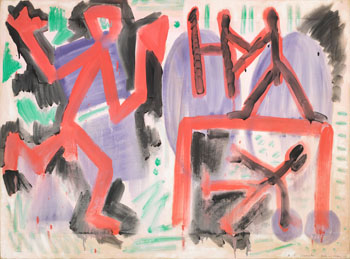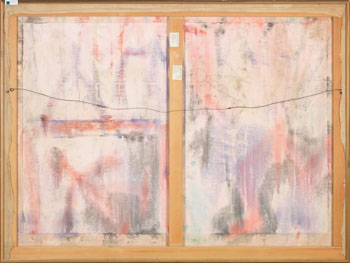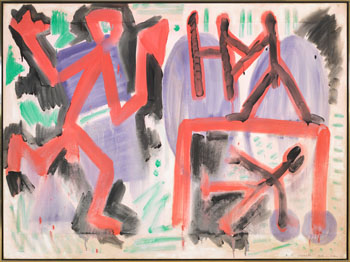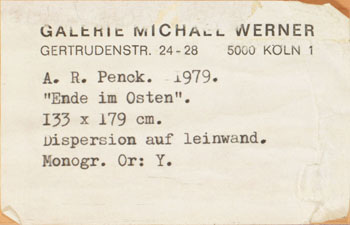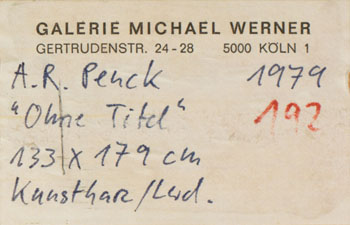 Lot # 051
Spring 2017 - 1st Session Live auction

A.R. Penck
1939 - 2017 German

Ende im Osten
dispersion on canvas
signed, titled, dated 1978 and inscribed "Y." and on verso titled and dated 1979 on the gallery label
52 3/8 x 70 1/2 in 133 x 179cm

Provenance:
Galerie Michael Werner, Cologne
Private Collection, British Columbia

Literature:
Marion F. Deshmukh, editor, Cultures in Conflict: Visual Arts in Eastern Germany since 1990, American Institute for Contemporary German Studies, 1998, pages 2 and 39

A.R. Penck came to international recognition as a prominent proponent of Neo-expressionist painting in Germany in the 1970s, 1980s and 1990s. Along with Georg Baselitz, Anselm Kiefer, Sigmar Polke and Jörg Immendorf - whose powerful Café Deutschland paintings (19 in total, 1977 - 1983) revolve in part around his café conversations with Penck at this time - Penck revived figurative painting that was personally, politically and socially expressive of the harsh realities of the Cold War and struggles between capitalist and communist ideologies.
A.R. Penck is a pseudonym for Ralf Winkler. He worked in Dresden, in former East Germany, and his work was seen as too radical to exhibit in the GDR. Winkler's strategy to have his work seen was to adopt a pseudonym and to work with the influential art dealer Michael Werner outside the GDR. Winkler borrowed a portentous name, that of Albrecht Penck, a geographer of the Ice Age, which for Winkler became a metaphor of the Cold War: slow, tectonic, brutal. Immendorf's later understanding of these global forces applies to Penck as well: "East Germany and West Germany, as I saw it, were just the bumpers on the two superpower autos, the big East Limo and the big West Limo, and the Wall was the seam, the place where they banged together…In the end, too, Germany's division was really a metaphor for the schizoid division of humanity—for these grinding contradictions in every one of us." Penck successfully applied to leave East Germany and moved to West Germany in 1980, which explains the exuberant, anticipatory title Ende im Osten (End in the East). The theme of liberation in the face of repression is central to his work in this all-important transition. This painting can also be seen as a prototype of Penck's well-known 1981 artist's book of the same title.
Ende im Osten is a vivid exemplar of Penck's signature visual vocabulary. He habitually used the male stick figure that we see here, animating this character with expressive line and colour. His forms are self-consciously "primitive," pared to a graphic simplicity that allows a gestural and emotional immediacy. This directness permitted his exploration of the personal and geopolitical trauma of the Cold War era. "What I have in mind is a kind of physics of human society," he said.
Given that Penck was also a jazz musician, it is not fanciful to see these as dancing stick figures. But the three characters—or one actor in different moments of a scenario perhaps—are anything but lighthearted. The largest, to the left, seems to run towards the other two half-sized figures. In his left hand, he displays a triangular form. Is it a megaphone through which he broadcasts his flight from the East? To the right, one figure stands on top of what can be read as a portal, gesturing and holding a large letter H. The other man has toppled over beneath the gate form. Perhaps he has run up against a closed door, a barrier. Penck is graphic in what he shows here but not didactic; he leaves interpretation open, inviting our emotional response to the predicaments of his figures. That he does so with such simplicity is one of the enduring qualities of this generative work.
We thank Mark Cheetham, Professor of Art History at the University of Toronto and author of Abstract Art Against Autonomy: Infection, Resistance, and Cure since the 60s, for contributing the above essay.


Estimate:
$30,000 ~ $50,000 CAD
Sold for:
$265,250 CAD (including Buyer's Premium)

All prices are in Canadian Dollars.
Although great care has been taken to ensure the accuracy of the information posted, errors and omissions may occur. All bids are subject to our Terms and Conditions of Business.