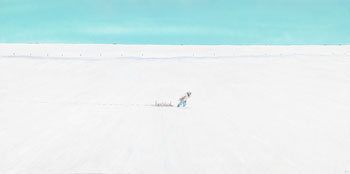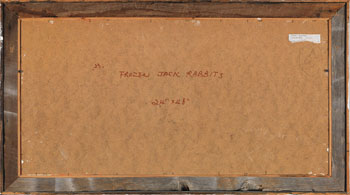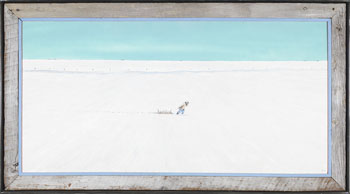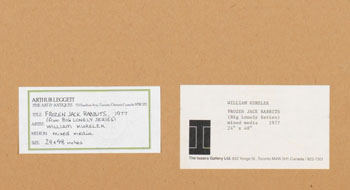 Lot # 047
Spring 2017 - 1st Session Live auction

William Kurelek
ARCA OC OSA 1927 - 1977 Canadian

Frozen Jack Rabbits
mixed media on board
initialed and dated 1977 and on verso titled and inscribed "23"
24 x 48 in 61 x 121.9cm

Provenance:
The Isaacs Gallery Ltd., Toronto
Arthur Leggett, Fine Art & Antiques, Toronto
Private Collection, Toronto

Literature:
William Kurelek, William Kurelek: A Retrospective, Edmonton Art Gallery in association with the Isaacs Gallery, 1970, page 1
Ramsay Cook, Kurelek Country: The Art of William Kurelek, 2002, pages 25 and 127

Art dealer Avrom Isaacs's first meeting with William Kurelek took place when the artist applied for a job at the Isaacs Gallery, bringing along samples of his own paintings to demonstrate his skill as a framer. Not only was Kurelek hired for the framing job, Isaacs was immediately so taken with Kurelek's paintings that he offered him the opportunity to exhibit his work there. Here was a truly serendipitous beginning—for both dealer and artist—of an outstanding business friendship and a lifelong career for an artist who at that time had modest expectations for his future success. Keep in mind that when Kurelek had his first solo exhibition there in 1960, the Isaacs Gallery's stable featured works by a burgeoning group of young abstract and avant-garde painters that included Michael Snow, Graham Coughtry and William Ronald. Only a few figurative works were on view at Isaacs, and none that in any way resembled what Kurelek was creating, either in subject, style or sensibility. Kurelek's current iconic status among twentieth-century Canadian artists is a tribute not only to his outstanding work, but also to a remarkable dealer who believed in and supported him.
In his introduction to the 1970 retrospective exhibition of William Kurelek's work at the Edmonton Art Gallery, Isaacs marvels at the multitude of subjects the artist depicted in his work and reminds us that he could easily have made his reputation by concentrating on any one of them. Isaacs goes on to state that Kurelek's memories of Prairie life in the 1930s and 1940s are among his most popular themes. He writes: "His concern for detail is almost Flemish. I often find myself examining the minute detail on the horizon with as much interest as the foreground of the work. The horizon line and the barbed wire fences are particular trademarks…strongly conveying the feel of [a] vast, sparsely populated landscape."
The beauty inherent in Frozen Jack Rabbits encompasses Isaacs's eloquent observations about the artist's stunning prairie vistas, whether winter or summer scenes. Here a single figure trudges through frozen fields to arrive home safely and deliver his cargo. With no other living creatures, no trees and not a hint of vegetation in view, the slant of his body is the only clue that he is fighting a strong wind to reach his destination. We can read this subject literally, as one of the childhood memories of Prairie life that were the essence of Kurelek's work throughout his career. The artist would have wanted us to also recognize the underlying spiritual message that permeates his work, for in writing about another work he stated, "I recall how in severe western winters nothing really sheltered man sufficiently except the heated farm house and so I compared it to a person…trying to find comfort in all sorts of places…forgetting that none will permanently shelter him but God."
This work is in the original frame made by Kurelek.


Estimate:
$250,000 ~ $350,000 CAD
Sold for:
$301,250 CAD (including Buyer's Premium)

All prices are in Canadian Dollars.
Although great care has been taken to ensure the accuracy of the information posted, errors and omissions may occur. All bids are subject to our Terms and Conditions of Business.