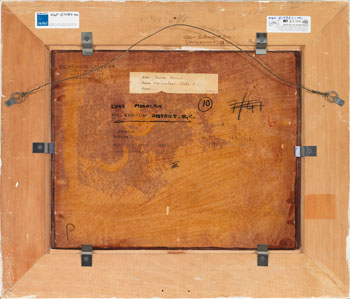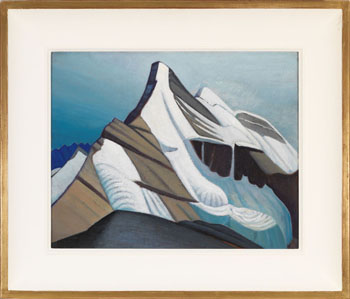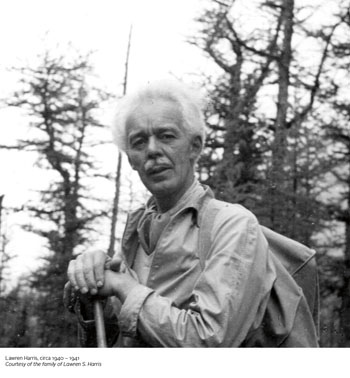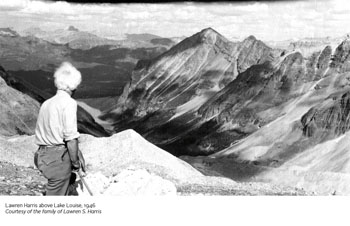 Lot # 117
Spring 2017 - 2nd Session Live auction

Lawren Stewart Harris
ALC BCSFA CGP FCA G7 OSA RPS TPG 1885 - 1970 Canadian

Lynx Mountain, Mt. Robson District, BC / Mountain Sketch XLI
oil on board circa 1929
on verso signed, titled, inscribed "10" (circled) / "7/47" (crossed out) / "6" in red / "P" / "4760 Belmont Ave., Vancouver, BC" / "BHC 80" and stamped Dominion Gallery, 1448 St. Catherine West, Montreal
12 x 15 in 30.5 x 38.1cm

Provenance:
Estate of the Artist
By descent to the present Private Collection, Vancouver

Literature:
Doris Mills, L.S. Harris Inventory, 1936, Rocky Mountain Sketches, Group 7, titled as "Mountain Sketch," catalogue #41, location noted as the Studio Building, and a drawing of this work illustrated by Hans Jensen
Lisa Christensen, A Hiker's Guide to the Rocky Mountain Art of Lawren Harris, 2000, reproduced page 23
Andrew Hunter, Lawren Stewart Harris: A Painter's Progress, The Americas Society, 2000, titled as Lynx Mountain, reproduced page 35
Paul Duval, Lawren Harris: Where the Universe Sings, 2010, titled as Lynx Mountain, Sketch XLI, reproduced page 285

Exhibited:
The Americas Society, New York, Lawren Stewart Harris: A Painter's Progress, September 5 - November 5, 2000

Lawren Harris was introduced to the magnificent peaks of Mount Robson Provincial Park through the sketches of A.Y. Jackson, who had been to this rugged and then largely inaccessible region of the Canadian Rockies in 1914 with fellow painter John William Beatty. Jackson and Beatty were working for the Canadian Northern Railway, which was laying track through the valley of the Fraser River. It was the beginning of the golden age of alpine tourism, and the industry, in order to create advertising material, needed visuals. This quest took Jackson and Beatty deep into Robsonís back country. The CNoR went bankrupt during World War I, and the oil sketches and pencil studies created by Jackson and Beatty are not known to have been used by the company, but Jackson is likely to have shown them to his fellow Group of Seven members a decade later.
The Groupís spirit of artistic nationalism was at its peak in the 1920s and its members were branching out in many new directions, both artistically and geographically. On a second railway-related junket in 1924, Jackson, this time with Harris, visited Jasper National Park in Alberta, planning to do some work for the Canadian National Railway. The artists spent a good deal of time in Jasper and are known to have passed through the Yellowhead Valley by train on their way to Vancouver. The view from the tracks in this region is stunning, with Mount Robson dominating. The peaks of the Robson region became a mainstay in Harrisís mountain oeuvre, and he produced major canvases of Robson subjects, such as the circa 1929 masterpiece canvas Mount Robson, in the McMichael Canadian Art Collection. Evidence suggests he returned to the region in 1927, and we know he returned in 1929, venturing deep into the heart of Mount Robson Provincial Park and climbing well above the treeline into the alpine zone to paint.
In this work, which depicts Lynx Mountain from Snowbird Pass, we can see his interest in the geometry of the mountain taking centre stage. He smoothes ridge lines, sharpens fault lines and defines the facets of the glacier more clearly. As was becoming his practice, he has given us a foothold, a place to be in the work, in the form of the smoothed grey rock slab in the foreground. These footholds not only anchor his works, but importantly, bring us as viewers into the scene, inviting us to contemplate his portrait of the peak.
Harrisís palette had for some time now been reduced to a few spare colours, with white, blue and purple-browns dominating here. Lynx Mountain, with its languid glacier, reclines like a sphinx, and it seems remote and dignified. At this time in his life, Harrisís art had undergone dramatic change. He was heading steadily towards abstraction, leaving the specifics of place further and further behind. Just as he journeyed deeper into Canadaís mountain passes, he sought greater heights of refinement in his art.
To reach the viewpoint from which Harris composed this scene, one must hike more than 20 kilometres from the rail line in the valley to the shores of Berg Lake, then a further 22 kilometres to Snowbird Pass, then some distance up the slopes of Titkana Peak on the north side of the passóa combined distance of some 45 kilometres from the trailhead. Harrisís commitment to his subject was such that these lengthy distances were necessary in order to escape the distractions of cities and towns, with their noises, industry and people. Here in the alpine air, he could strip away the unnecessary, capturing only the most essential of the mountainís form.
We thank Lisa Christensen, author of A Hikerís Guide to the Rocky Mountain Art of Lawren Harris, for contributing the above essay.


Estimate:
$600,000 ~ $800,000 CAD
Sold for:
$1,261,250 CAD (including Buyer's Premium)

All prices are in Canadian Dollars.
Although great care has been taken to ensure the accuracy of the information posted, errors and omissions may occur. All bids are subject to our Terms and Conditions of Business.