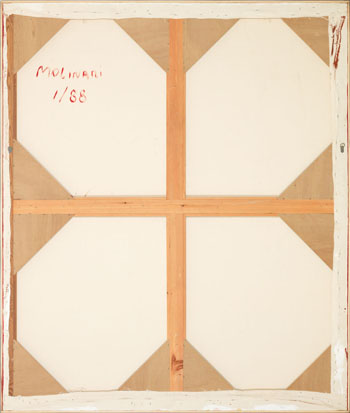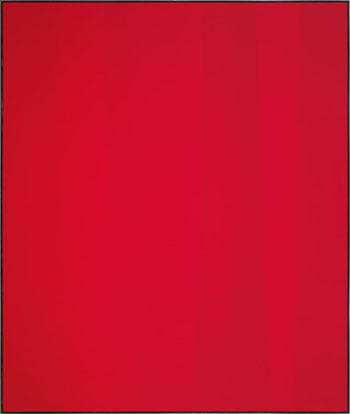 Lot # 038
Fall 2016 - 1st Session Live auction

Guido Molinari
AANFM LP QMG RCA SAPQ 1933 - 2004 Canadian

Quantificateur rouge
acrylic on canvas
on verso signed and dated 1/88
78 x 66 in 198.1 x 167.6cm

Provenance:
Grunwald & Watterson Gallery, Toronto
Acquired from the above by the present Private Collection, Toronto, April 6, 1988

Literature:
James D. Campbell, Molinari Studies, 49th Parallel, 1987, page 42
Sandra Grant Marchand et al., Guido Molinari: une rétrospective, Musée d'art contemporain de Montréal, 1995, a similar 1987 painting entitled Quantificateur rouge numéro 3, collection of the Musée des beaux-arts de Montréal, reproduced page 61

Guido Molinari's Quantifier series began in 1975, and it was an important part of his oeuvre for 20 years. These paintings were often large in scale and monochrome, and they exert a powerful effect on the senses. James Campbell wrote, "Molinari chose the title Quantifiers (Quantificateurs Chromatique) to describe 'painting environments' in which colour-light, quantified in terms of mass, forms a 'fictional' space that impinges upon and subsumes the consciousness of the viewer." In the works from this series, colour is fully saturated and dense, space is completely flat, and vertical, irregular divisions are differentiated by subtle tonal differences. To achieve these flat surfaces, without texture, Molinari applied paint by rollers or spraying, creating no distraction from the effulgence of their colour fields. In these works, colour is form, expressing the structural energy of masses. The interactions between the vertical divisions create a shifting state, as they transfer energy from one to the other, challenging our perceptions. This stunning, radiant Quantificateur rouge envelops the viewer with its red force field, its power exhibiting Molinari's mastery of pictorial space.


Estimate:
$80,000 ~ $120,000 CAD
Sold for:
$94,400 CAD (including Buyer's Premium)

All prices are in Canadian Dollars.
Although great care has been taken to ensure the accuracy of the information posted, errors and omissions may occur. All bids are subject to our Terms and Conditions of Business.