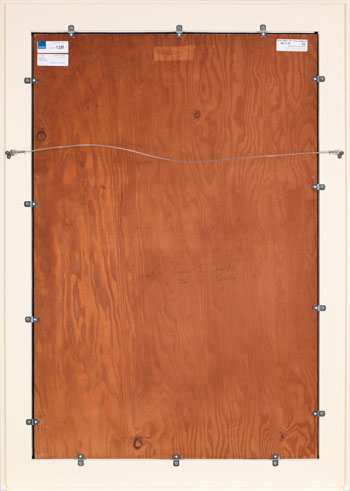 No Image Available
Lot # 138
Fall 2016 - 3rd Session Live auction

Emily Carr
BCSFA CGP 1871 - 1945 Canadian

Arbutus Trees
oil on paper on board circa 1933
signed twice and on verso signed, titled and inscribed with a partial price on the remnant of a label, all in Carr's handwriting
36 x 24 in 91.4 x 61cm

Provenance:
Emily Carr, Victoria
Robert F. Christy and Dagmar von Lieven Christy, Vancouver
By descent to the present Private Collection, California

Literature:
Emily Carr, Hundreds and Thousands: The Journals of Emily Carr, 2006, page 49

This superb Emily Carr painting comes with a provenance equally as remarkable. Arbutus Trees was originally acquired by the consignor's parents, distinguished Manhattan Project physicist Robert F. Christy and his first wife, Dagmar von Lieven Christy. Robert and Dagmar first met after high school graduation at an award dinner, where Robert was awarded the bronze Governor General's Academic Medal for scoring the highest grade point average in a Canadian school, while Dagmar came in second.
Young and brilliant, Robert entered the University of British Columbia's science program in 1932 as a sophomore at only 16 years old. By 1941 he had earned his bachelor's degree and master's in physics and mathematics from UBC and his doctorate from the University of California, Berkeley. It was at UC Berkeley where he studied under J. Robert Oppenheimer, a leading theoretical physicist who was later known as the "father of the atomic bomb." Christy joined Oppenheimer on the renowned Manhattan Project at the University of Chicago, where early development of nuclear weapons began during World War II. Oppenheimer and his team headed the Los Alamos laboratory where the actual explosives were designed. Christy was credited with producing the plutonium core of the bomb, and the vital piece of the project became known as the "Christy pit" or the "Christy gadget."
Dagmar was born in East Prussia, and after the Communist takeover of Russia, she moved with her parents to northeast China. She later moved with her mother to Vancouver. She spoke several languages before arriving in Canada and became fluent in English four years after immigrating. Dagmar studied alongside Robert at UBC and majored in French. The two spent years keeping in touch during Robert's graduate studies in California, and they married in 1941 once he began to earn a living. While Robert's extracurricular activities included tennis and skiing, Dagmar was interested in reading and painting. It can be assumed that the purchase of this wonderful Emily Carr work was likely inspired by Dagmar's love of the arts.
Trees were beloved by Carr, from the aromatic cedars and pines to the unique arbutus tree, the broad-leaf evergreen so emblematic of the West Coast. On the distinctive trunks of these trees the old bark peels off in crinkly rolls, revealing the satin-smooth new bark underneath in vibrant tones of orange, red and green-gold, as seen here in this richly coloured oil on paper work. This strong colouration recalls the transformation in Carr's palette to bright hues after her visit to France in 1911.
Carr was known to have frequently painted an arbutus tree in the garden of the Newcombe family mansion in Victoria. These distinctive, graceful trees are seen in many places in and around Victoria, often clinging tenaciously to rocks overlooking the ocean. In her journal, Carr recounts one sighting of them in the woods at Esquimalt: "Day was splendid—sunshine and blue, blue sky, and two arbutus with tender satin bark, smooth and lovely as naked maidens, silhouetted against the rough pine woods. Very joyous and uplifting..."
In this work the arbutus trees portrayed are of various ages, one particularly tall and striking, its radiant foliage reaching to the sky. Behind them is a stunning sea view to mountains, with one snow-capped peak rising above the others—likely Mount Baker on the mainland. Richly coloured and densely painted, and expressive of the powerful life energy Carr perceived in the landscape, Arbutus Trees is an exceptional work.


Estimate:
$150,000 ~ $250,000 CAD
Sold for:
$619,500 CAD (including Buyer's Premium)

All prices are in Canadian Dollars.
Although great care has been taken to ensure the accuracy of the information posted, errors and omissions may occur. All bids are subject to our Terms and Conditions of Business.