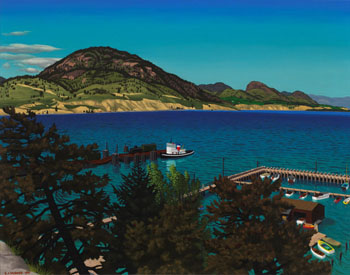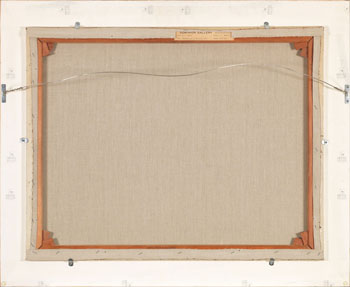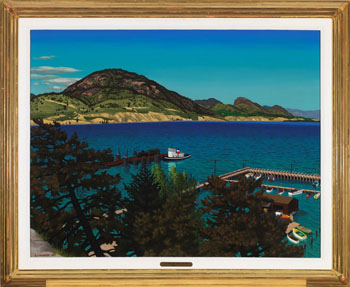 Lot # 238
Fall 2016 - 4th Session Live auction

Edward John (E.J.) Hughes
BCSFA CGP OC RCA 1913 - 2007 Canadian

Okanagan Lake at Penticton
oil on canvas
signed and dated 1961 and on verso signed, titled, dated and inscribed "#81" and with the Dominion Gallery inventory #F2852
25 x 32 in 63.5 x 81.3cm

Provenance:
Dominion Gallery, Montreal
Collection of the London Club, London, Ontario
Gardner Galleries, Ontario
Heffel Gallery Limited, Vancouver
Peter and Joanne Brown Collection, Vancouver, acquired from the above in 1996

Literature:
Leslie Allan Dawn and Patricia Salmon, E.J. Hughes: The Vast and Beautiful Interior, Kamloops Art Gallery, 1994, reproduced page 54 and listed page 70, and the 1958 graphite drawing Okanagan Lake at Penticton reproduced page 52
Jacques Barbeau, The E.J. Hughes Album: The Paintings, Volume 1, 1932 - 1991, 2011, reproduced page 36

Exhibited:
Kamloops Art Gallery, E.J. Hughes: The Vast and Beautiful Interior, September 22 - November 6, 1994, traveling to the Grand Forks Art Gallery; the Vernon Art Gallery; the Art Gallery of the South Okanagan, Penticton; the Kelowna Art Gallery; and the Prince George Art Gallery, 1994 - 1995, catalogue #18

In 1958, E.J. Hughes was awarded a Canada Council fellowship, which enabled him to make sketching trips to the interior of British Columbia. In June of 1958 he was in the city of Penticton on Okanagan Lake - a unique area of sun-drenched hills covered with grass and sage and dotted with Ponderosa pines, surrounding this deep, 80-mile-long lake. Here Hughes produced the graphite sketch that he used back in his studio on Vancouver Island as the source for this finely honed oil. Brilliance of colour is characteristic of Hughes's works from the 1960s, and paintings from this decade are greatly sought after. Okanagan Lake at Penticton features a richness of blues that is breathtaking, ranging from cobalt to purple-blue to turquoise. Vegetation in olive hues and beige cliffs on the far shore are a foil to this intensity, and bright sparks of colour in the boats enliven the dock in the foreground. Whether of the West Coast or of the Interior, Hughes's sublime depictions of British Columbia such as this magnificent canvas made him one of Canada's great landscape painters.


Estimate:
$125,000 ~ $175,000 CAD
Sold for:
$177,000 CAD (including Buyer's Premium)

All prices are in Canadian Dollars.
Although great care has been taken to ensure the accuracy of the information posted, errors and omissions may occur. All bids are subject to our Terms and Conditions of Business.