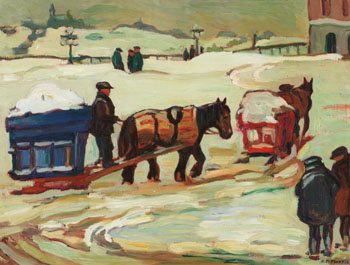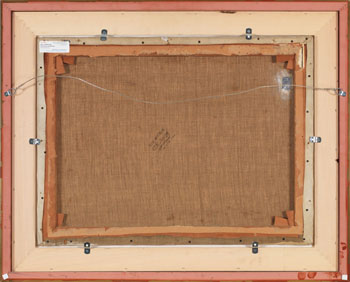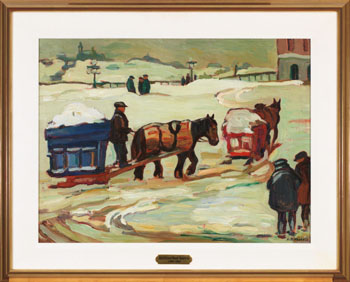 Lot # 228
Fall 2016 - 4th Session Live auction

Kathleen Moir Morris
AAM ARCA BHG 1893 - 1986 Canadian

Moving Snow, Berthierville
oil on canvas circa 1925
signed
18 x 24 in 45.7 x 61cm

Provenance:
Acquired directly from the Artist by a Private Collector, Montreal
Sold sale of Fine Canadian Art, Heffel Fine Art Auction House, November 24, 2005, lot 30
Peter and Joanne Brown Collection, Vancouver

Literature:
Frances K. Smith, Kathleen Moir Morris, Agnes Etherington Art Centre, 1983, page 13

Kathleen Moir Morris is known for her eloquent paintings of the streets, markets and gathering places of her native Quebec. Immediately recognizable, Morris's boldly executed compositions compel our aesthetic admiration and incite our curiosity about the places, people and daily rituals of a bygone era. Morris attended classes with William Brymner at the Art Association of Montreal between 1907 and 1917. During this time she developed her keen perceptual and technical skills and established pivotal friendships with female peers such as Henrietta Mabel May, Prudence Heward and Sarah Robertson, artists with whom she later joined to form the short-lived Beaver Hall Group in the early 1920s. Morris was exposed to emerging international stylistic trends at the AAM and contemporary concerns with light, colour and composition. Her skills would be honed further during summer sketching excursions led by Maurice Cullen, a pre-eminent Canadian exponent of the Impressionist school.
Berthierville, east of Montreal, was one of Morris's favoured painting places, offering the pictorial interest she needed to create her inspired images: "snow, horses, [and] a town centre with church buildings." Moving Snow, Berthierville typifies the artist's affinity for the prosaic subject and her fondness for snowy scenes that contain clusters of people and horses, the latter pictured either at work or waiting patiently at Burleau sleighs and cab stands. Here, Morris's sensitive representation of the working animals betrays her particular affection for them, and the rhythmically rendered, tactile surface is an almost palpable expression of a damp winter's day. However, beyond the painting's emotive and sensory dimensions, Moving Snow, Berthierville is also a significant example of Morris's interest in progressive formal and stylistic explorations. The reductiveness she employs in the articulation of her figures, the flattened, somewhat decorative compositional arrangement as well as her interest in unusual chromatic dynamics remind us that Morris figures among Canada's important early-twentieth-century interpreters of a modern visual vocabulary.


Estimate:
$90,000 ~ $120,000 CAD
Sold for:
$94,400 CAD (including Buyer's Premium)

All prices are in Canadian Dollars.
Although great care has been taken to ensure the accuracy of the information posted, errors and omissions may occur. All bids are subject to our Terms and Conditions of Business.