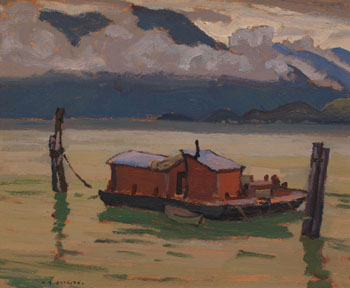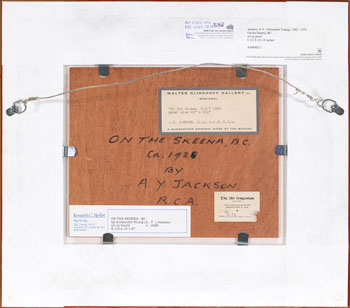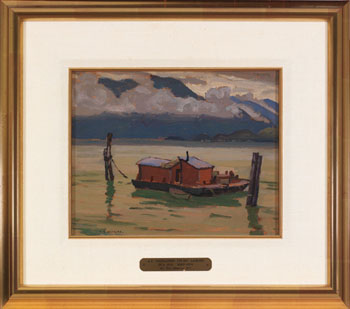 Lot # 204
Fall 2016 - 4th Session Live auction

Alexander Young (A.Y.) Jackson
ALC CGP G7 OSA RCA RSA 1882 - 1974 Canadian

On the Skeena, BC
oil on board
signed and on verso titled and inscribed "by A.Y. Jackson, R.C.A., circa 1926"
8 1/2 x 10 1/2 in 21.6 x 26.7cm

Provenance:
Galerie Walter Klinkhoff Inc., Montreal
The Art Emporium, Vancouver, 1972
Fannin Hall Collection, Vancouver
Kenneth G. Heffel Fine Art Inc., Vancouver
Private Collection, British Columbia, 1980
Sold sale of Canadian Art and International Works, Heffel Fine Art Auction House, November 9, 1995, lot 25
Peter and Joanne Brown Collection, Vancouver

Literature:
Pierre B. Landry, editor, Catalogue of the National Gallery of Canada, Canadian Art, Volume Two / G-K, 1994, the 1926 graphite drawing Houseboats on the Skeen River reproduced page 218, catalogue #17534
Wayne Larsen, A.Y. Jackson: The Life of a Landscape Painter, 2009, page 130

In 1926, A.Y. Jackson traveled to the Skeena River region of northwest British Columbia, along with anthropologist and ethnologist Marius Barbeau and painter Edwin Holgate. This was the territory of the Gitxsan people where Barbeau intended to study the totem poles, while Jackson was excited by the prospects of painting native villages and totems. Both were aware of Emily Carr's trip to the upper Skeena more than a decade earlier. Jackson stated, "It is a great country for painting. The Indian villages are almost as fine as the Quebec villages and the backgrounds more exciting." The Skeena River functioned as a highway from the sea to the Interior, with native villages strung along its banks, backed by dense bush. In On the Skeena, BC, Jackson depicts houseboats moored on the river, with a striking backdrop of a village on the far shore backed by a high mountain range. It is a peaceful scene, yet these towering mountains express the power of British Columbia's primeval landscape.
The National Gallery of Canada has the 1926 graphite drawing for this work entitled Houseboats on the Skeena River in its collection.


Estimate:
$25,000 ~ $35,000 CAD
Sold for:
$47,200 CAD (including Buyer's Premium)

All prices are in Canadian Dollars.
Although great care has been taken to ensure the accuracy of the information posted, errors and omissions may occur. All bids are subject to our Terms and Conditions of Business.