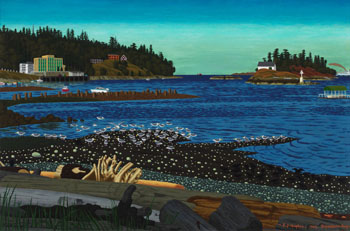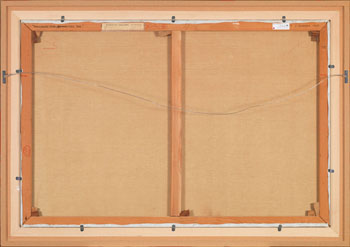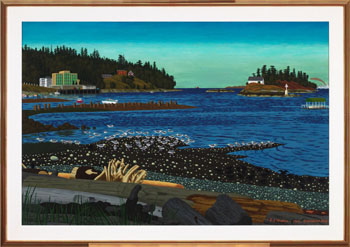 Lot # 232
Fall 2016 - 4th Session Live auction

Edward John (E.J.) Hughes
BCSFA CGP OC RCA 1913 - 2007 Canadian

Receding Tide, Departure Bay
oil on canvas
signed, dated 1969 and inscribed "Departure Bay" and on verso signed, titled, dated and inscribed with the Dominion Gallery inventory #G4062
32 3/8 x 48 1/4 in 82.2 x 122.5cm

Provenance:
Dominion Gallery, Montreal
Private Estate, Montreal
Sold sale of Fine Canadian Art, Heffel Fine Art Auction House, May 23, 2007, lot 184
Private Collection, Vancouver
Sold sale of Canadian Post-War & Contemporary Art, Heffel Fine Art Auction House, May 17, 2012, lot 53
Peter and Joanne Brown Collection, Vancouver

Literature:
Ian M. Thom, E.J. Hughes, Vancouver Art Gallery, 2002, page 146
Jacques Barbeau, The E.J. Hughes Album: The Paintings, Volume 1, 1932 - 1991, 2011, reproduced page 54 and a similar 1969 oil entitled Departure Bay reproduced page 53

The characteristics of E.J. Hughes's work of the 1960s were a deep, rich colour palette and a more natural approach to form than his stylized and primitive mode of the 1940s and 1950s, resulting in a kind of crystallized reality. Hughes's great inspiration was derived from nature, and he stated, "One of my aims in my realistic painting [is] to make my representations of Natural forms even more clearly definitive than photographs themselves." Hughes was an individualist who held to his own vision, rather than being affected by the latest trends in art. However, although living in relative artistic isolation, Hughes traveled to Victoria to see shows at its museum. In 1960, he expressed great appreciation for a show of historical Dutch art, particularly liking the work of Jan van der Heyden – as he wrote – "not just because he paints every brick, but because he gets the true feeling of Nature with its solidity and atmosphere." His affinity was for realism, an affinity that could stretch beyond his time and country.
Hughes's reputation continued to build in the late 1960s. Dr. Max Stern of the Dominion Gallery in Montreal was promoting his work across Canada. In 1967, a retrospective of his work was mounted at the Vancouver Art Gallery and it traveled to York University in Toronto. He became an Academician of the Royal Canadian Academy in 1968, and his diploma painting Kaslo on Kootenay Lake became a part of the collection of the National Gallery of Canada, Ottawa, in 1969.
In the 1960s, Hughes was living at Shawnigan Lake, in the Cowichan Valley on Vancouver Island, and his subjects most often came from his close surroundings. Departure Bay is located further north at Nanaimo, where ferries from the mainland dock. Hughes has chosen an intimate view of this harbour in this extraordinary painting, focusing on the interesting elements of the foreshore. One is aware of the particular keenness of Hughes's eye in picking out and emphasizing the natural patterns present there, as well as his meticulous attention to detail in their depiction. The foreground beach is marvelously patterned and textured, with Hughes contrasting pale round rocks with sand, beachcombing seagulls and black crows with grey and deep charcoal layers of beach in a tour de force of tonality. Hughes then contrasts this black, grey and white tonality with the intensely coloured background, with deep cobalt blue in the sea and sky and glowing turquoise on the horizon. Layers of driftwood progress from smoky charcoal in the foreground to a brilliant sun-bleached and sea-polished chunk of roots that stands like a piece of sculpture at the tideline. Hughes demonstrated his interest in patterning in other seashore works, such as his 1958 masterwork oil Qualicum, with its beach studded with rocks and shells, in the collection of the Vancouver Art Gallery.
Moving out into the landscape, we see docks, nautical signs, boats and buildings carefully placed. The prominent building on the far shore is the Pacific Biological Station, a Fisheries and Oceans Canada facility for aquatic research. Behind the island, part of a ferry – an iconic Hughes image – moves out of the frame on the far right. Remnants of the pilings from an old dock in the middle ground give a subtle feeling of nostalgia for the passing of time. Pleasure craft bob in the foreground, a tug passes in the distance towing a red barge; Hughes's vision of maritime life on the protected eastern side of the Island is calm and orderly. Life on the coast, lived in harmony with nature, is pleasurable; even the predatory seagulls and crows seem jaunty and content, picking through what the tide has left behind. Receding Tide, Departure Bay, with its fine detailing and patterning, sculptural beach forms, brilliant accentuated colour and clarity of atmosphere, is a superb Hughes coastal scene.


Estimate:
$200,000 ~ $300,000 CAD
Sold for:
$247,800 CAD (including Buyer's Premium)

All prices are in Canadian Dollars.
Although great care has been taken to ensure the accuracy of the information posted, errors and omissions may occur. All bids are subject to our Terms and Conditions of Business.