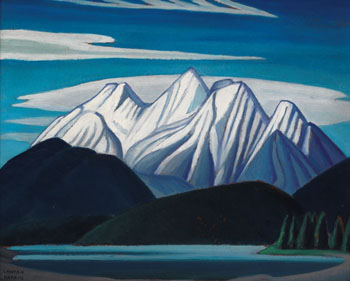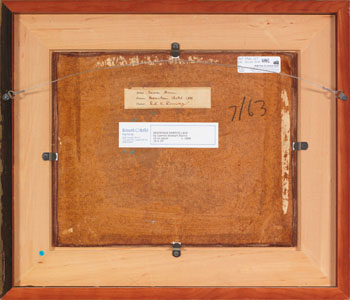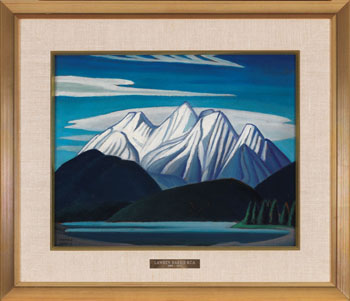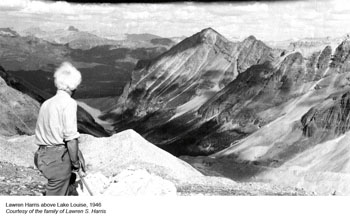 Lot # 260
Fall 2016 - 4th Session Live auction

Lawren Stewart Harris
ALC BCSFA CGP FCA G7 OSA RPS TPG 1885 - 1970 Canadian

Mountain Sketch LXIII
oil on board circa 1928
signed and on verso signed, titled and inscribed "R.E.K. Rourks" on the artist's label and with the Doris Mills Inventory #7/63
12 x 15 in 30.5 x 38.1cm

Provenance:
R.E.K. Rourks
Kenneth G. Heffel Fine Art Inc., Vancouver
Peter and Joanne Brown Collection, Vancouver, acquired from the above in 1986

Literature:
Doris Mills, L.S. Harris Inventory, 1936, Mountain Sketches, listed and a drawing of this work illustrated by Hans Jensen, catalogue #63

Lawren Harris's explorations of the Rocky Mountains of Canada took him to Jasper, Banff and Yoho National Parks, as well as Mount Robson Provincial Park. In his hikes in all of these regions, he carried a sketchbook, usually 7 x 9 inches, and sometimes 8 x 10 inches. In it he penciled finely rendered drawings, recording the mountain vistas that caught his attention in careful, accurate detail. Often, he would draw a certain scene, then climb a few hundred metres farther up a slope and make another drawing of the same view from a slightly different angle. These exquisite drawings would then become the starting point for his oil panels.
Once Harris had settled on this or that particular view, he would begin an oil sketch, having worked out much of the composition in the drawing. In looking at these works, it becomes clear that the silhouette of the mountains was of particular importance in Harris's selection criteria. He chose peaks and ranges that had balance and rhythm and that were set off from other mountains, aloof and alone. If he was interested in a peak that was part of a larger massive range, or that had parts that he felt distracted from the main idea of the work, he would simply adjust them in the drawings and panels, leaving out features—often entire mountains—or rounding out secondary hills in the foreground, all to focus our attention on the main event. Mountain Sketch LXIII is such a work and comes from an adjusted drawing.
The peaks depicted are part of the mountains of the Victoria Cross Ranges in Jasper National Park. Included in the work, from left to right, are Cairngorm, Mount Kinross (the tallest, most triangular peak), an unnamed peak and part of Pyramid Mountain. Notably, in this work Harris has chosen to eliminate all but a portion of the most distinctive and recognizable peak in the range—Pyramid Mountain. He shows us only a section of its flank. In the drawing for this work, now in a private collection, we can see that it had originally been included and then erased. Harris's compositional rules would not allow for a peak that ran off and out of the picture frame. His mountains needed pictorial isolation—they needed to be the only actors on the stage, and so Pyramid had to go.
In Mountain Sketch LXIII, Harris has cast the Victoria Cross Ranges in silvery white light. Perhaps he observed the peaks caught in a fresh snowfall, or after a rainfall, or in the early morning, when the sun would have caused the grains of mica and feldspar in the gritstone of which these peaks are composed to shine, a trait that is a unique feature of the mountains in this region. Their silvery sheen might have been what caught his attention, but it is interesting to speculate whether Harris was privy to early discussions regarding naming the range for the Victoria Cross. While the official name was not applied until 1952, decades of conversations often precede establishing place names in the Canadian Rockies. Harris's experiences in World War I, significantly the loss of his brother Howard, were a recent wound in Harris's memory when he worked in the Rockies. Mountains named to honour bravery would certainly have been of interest to him.
Mountain Sketch LXIII is a stunning work. In it we can see that Harris has fully conquered the challenges of the mountains. While the low rounded hills are characteristic of the valley floor in this area, Harris controls them, smoothing and shaping them to set off the mountains behind, using a small stand of trees on one side to play patterning against the sculpted cliffs above. The simplified palette relies primarily on rich and varied blends of blue, white and green that meld seamlessly under Harris's controlled and effortless brushwork. We might be looking at the range from the banks of the Athabasca River, easily accessed from the Jasper townsite, or near Cottonwood Slough or one of the other small lakes in the area. Wherever we are, we are viewing one of Harris's finest panoramas, an example of his ability to pare away the unessential to create a work that not only captures our full attention, but also holds us rapt, caught in the still serenity of mountains perfected.
We thank Lisa Christensen, author of A Hiker's Guide to the Rocky Mountain Art of Lawren Harris and director of Heffel's Calgary office, for contributing the above essay.


Estimate:
$700,000 ~ $900,000 CAD
Sold for:
$2,006,000 CAD (including Buyer's Premium)

All prices are in Canadian Dollars.
Although great care has been taken to ensure the accuracy of the information posted, errors and omissions may occur. All bids are subject to our Terms and Conditions of Business.