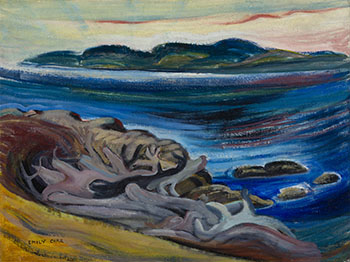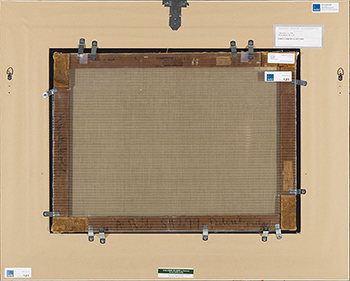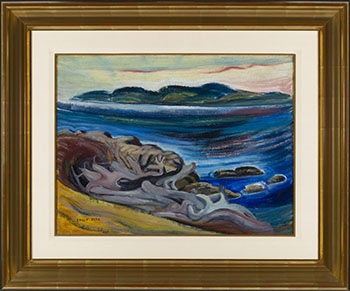 Lot # 121
Spring 2016 - 2nd Session Live auction

Emily Carr
BCSFA CGP 1871 - 1945 Canadian

Shoreline
oil on canvas circa 1936
signed and on verso inscribed "890a" indistinctly and stamped Dominion Gallery with the original Saint Catherine Street West address and West End Gallery
18 x 24 in 45.7 x 61cm

Provenance:
Dominion Gallery, Montreal
West End Gallery, Montreal
Galerie Walter Klinkhoff Inc., Montreal
Private Collection

Literature:
Doris Shadbolt, The Art of Emily Carr, 1979, the similar 1936 oil entitled Shoreline, in the McMichael Canadian Art Collection, reproduced page 123
Emily Carr, The Complete Writings of Emily Carr, 1993, pages 735 and 736

Exhibited:
Masters Gallery Ltd., Calgary, Emily Carr Retrospective, March 13 - 20, 2013

By the time Emily Carr painted this masterwork canvas in 1936, she had come to terms with her own sense of spirituality, which was based firmly on her relationship with nature. Lawren Harris had urged her to read and consider some of the precepts of theosophy, which he practised, but she would quickly reject this idea. Carr had known for many years that the church-going approach to religion held no interest for her. She did, however, believe deeply in the spirituality of the woods - present in the beach, the pebbles and the stones. That god, she felt, was everywhere. She wrote in 1934 that religion should "waken one to a far bigger sense of life, far bigger than the sense of life that comes through theosophy, that static, frozen awfulness, sort of a cold storage for beautiful thoughts...At one time I was very keenly interested, thought perhaps it was the way. Now it numbs and chills me."
In her view, Harris's theosophy was too distanced from nature for her to accept it, too remote from the deep personal connection she felt to the forest and sea with whom she communed daily. She continued in the same passage of writing: "The beach was sublime this morning—low, low tide that showed things that are most times hidden, great boulders, and little round stones the size of heads, covered with a kind of dried sea moss and looking like the tops of human heads. The sea urchins squirted at you as you walked and crabs scuttled, and the air and the sea and the earth were on good terms, and made little caressing sounds. The sea kissed the pebbles and the little breeze petted everything and wasn't cold or annoying. As for the earth, she is beside herself with sprouts and so happy. The air and the earth and the sea seemed to be holding some splendid wonderful secret, folding it up between them and saying to you, 'Peep and guess. If you guess right you can have it.' And you're almost scared to guess for fear of being wrong and not getting it." In this canvas, the sea and earth and the sky are clearly on very good terms. They are united by Carr's rich palette of saturated, balanced colour—the orange and green of the near shore, the purple-grey driftwood, the almost black seaweed-covered stones and the richly hued blues of the sea water. These are held together by the distant shore and spots of these same saturated colours echoing in the wisps of reddish purple and streaks of blue in the sky. In this rare, mature period canvas, we do not even need to guess at the "splendid, wonderful secret" that Carr so eloquently described. She has painted it for us.
Carr continues, "I think perhaps it's this way in art. The spirit of the thing calls to your soul. First it hails it in passing and your soul pauses and shouts back, "Coming." But the soul dwells in your innermost being and it has a lot of courts and rooms and things to pass through, doors and furniture and clutter to go round and through, and she has to pass through and round all this impedimenta before she can get out in the open and catch up and sometimes she can't go on at all but is all snarled up in obstructions. But sometimes she does go direct and clear and catches up and goes along. Sometimes they can go only a little bit of way together and sometimes quite far, but after a certain distance she always has to drop back. But, oh, if you could only go far enough to see the beauty of the whole complete thought that has called out to you!" Carr's wanderings along the beach, her hours of solace spent painting her beloved forest and her ability to not only see, but to deeply feel nature's beauty gave her the capacity to depict the "complete thought" called out to her by the spirit of things. Here, this thought seems to be one of strength and boldness, layered with a wild and colourful sense of utter joy.


Estimate:
$600,000 ~ $800,000 CAD
Sold for:
$708,000 CAD (including Buyer's Premium)

All prices are in Canadian Dollars.
Although great care has been taken to ensure the accuracy of the information posted, errors and omissions may occur. All bids are subject to our Terms and Conditions of Business.