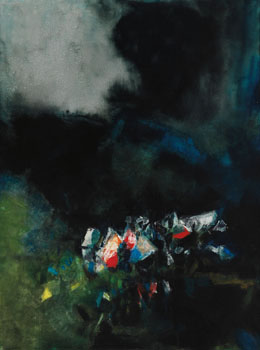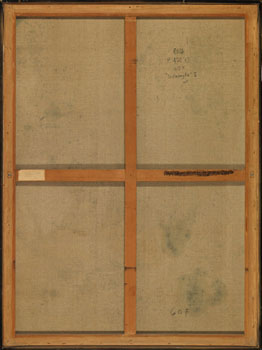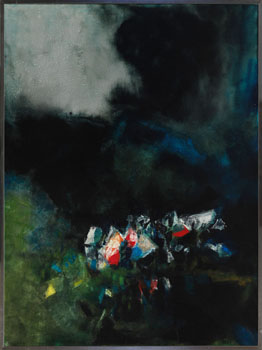 Lot # 050
Spring 2016 - 1st Session Live auction

Sayed Haider Raza
1922 - 2016 Indian

Costapoglia II
oil on canvas
signed and dated 1963 and on verso signed, titled and inscribed "P_470'63" and "60F"
51 x 38 in 129.5 x 96.5cm

Provenance:
Galerie Lara Vincy, Paris
Galerie Dresdnere, Toronto, 1969
Acquired from the above by the present Private Collection, Toronto

Literature:
Sayed Haider Raza and Ashok Vajpeyi, Passion: Life and Art of Raza, 2005, page 37

Now in his mid 90s and living back in India, Sayed Haider Raza enjoys one of the most remarkable careers in painting today. Born and schooled in India and a leader in modern Indian art in his early years, in 1950 he moved to Paris to study, supported by the host country. Raza stayed for over 50 years. His long career embraces both a mastery of School of Paris techniques and style—seen in this classic painting—and a high degree of respect and success in India. He was a global artist before globalization in its present dimensions took over the art world.
Why did he leave a prominent career as an artist in India to study in France? A chance meeting with photographer Henri Cartier-Bresson in India was one spur. In his autobiographical notes he also recalls thinking that "the French have mastered painting" and that he wanted to learn from Paul Cézanne, Paul Gauguin, Henri Matisse and Georges Braque. In this way he is a living reminder that modern art has since its inception been international and cross-cultural, with artists such as Raza working in Europe but never forgetting their cultural heritage, and frequently articulating innovative dimensions of modernism in their countries of origin as well as abroad. Raza's work encourages us to look to "multiple modernisms"—as they are now called in art historical circles—in the mid-twentieth century to understand this art practice in its time and in its ongoing resonance today.
Raza's work traveled even more than he did. Costapoglia II was one of 19 paintings consigned from his Paris dealer, Lara Vincy, to Galerie Dresdnere for a 1968 solo exhibition of the artist's work in Toronto. The art dealer Simon Dresdnere had begun to show Raza's paintings when he opened his Montreal gallery in 1957, and he continued to sell paintings by Raza to Canadian collectors for at least another 10 years. This work is recorded in the Galerie Dresdnere inventory as #6740 and was acquired by its current owner in March of 1969.
What do we see and what associations do we make in considering Raza's highly coloured yet dream-like Costapoglia II? One must be struck by the intense reds and blues of the form apparently floating in the lower middle of this vertical canvas. Painted quite smoothly and freely in a transition away from his earlier impasto handling, the forms shimmer and move as if suspended. The balance of the surface is atmospheric: a dappled, cloud-like white mass dominates the upper left, while midnight blue opposite at the top offers a strong contrast. Highly keyed blues give way to a softened green in the lower left. Depending on one's inclinations and presuppositions, what appears at first to be an abstract image gradually coalesces into a freely realized landscape. The crepuscular forms that we first notice are reflected in a shiny surface at the bottom of the image, which we might start to see as a lake that mirrors adjacent buildings along a shoreline. The upper parts of the canvas then appear as high, mountainous ground. We realize that we are looking down on a village (one that is more naturalistically rendered in other Raza works from the early 1960s). What we see is both real and evanescent, a memory of the spectacular settings that Raza visited in the South of France. It is a mysterious and evocative work by an artist in full control of painting's vocabulary.
We thank Mark Cheetham, Professor of Art History at the University of Toronto, for contributing the above essay.
This work will be included in the forthcoming Raza catalogue raisonné being prepared by the Raza Foundation and Vadehra Art Gallery.


Estimate:
$200,000 ~ $300,000 CAD
Sold for:
$383,500 CAD (including Buyer's Premium)

All prices are in Canadian Dollars.
Although great care has been taken to ensure the accuracy of the information posted, errors and omissions may occur. All bids are subject to our Terms and Conditions of Business.