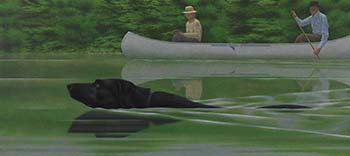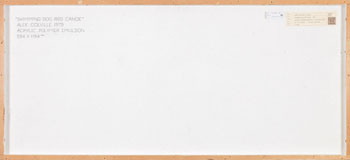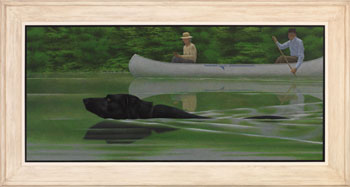 Lot # 027
Spring 2016 - 1st Session Live auction

Alexander Colville
PC CC 1920 - 2013 Canadian

Swimming Dog and Canoe
acrylic polymer emulsion on board
on verso signed, titled, dated 1979 and inscribed "Acrylic Polymer Emulsion"
21 x 47 in 53.4 x 119.4cm

Provenance:
Fischer Fine Art Limited, London, England
Private Collection, Geneva

Literature:
David Burnett, Colville, Art Gallery of Ontario, 1983, reproduced page 185 and listed page 251, catalogue raisonné #115

Exhibited:
Art Gallery of Ontario, Toronto, Alex Colville: A Retrospective, July 22 - September 18, 1983, traveling to Museum Ludwig, Cologne; Dalhousie Art Gallery, Halifax; Staatliche Kunsthalle, Berlin; the Montreal Museum of Fine Arts; and the Vancouver Art Gallery, 1983 - 1984, catalogue #115

Swimming Dog and Canoe is a classic Alex Colville painting. It is peaceful and balanced, yet at the same time quietly extraordinary in what it shows, a no doubt commonplace canoeing excursion by Alex and Rhoda Colville with their dog. As his taciturn title suggests, Colville believed that everyday occurrences were the most significant in our lives and most deserving of his punctilious attention. Animals—both domesticated and wild—were important to the Colvilles and very much part of their everyday routine. Here the two people, guardians and fellow travelers, glide at a safe distance from the dog, watching it with little concern. The dog is placed closest to our vision. He is gracefully intent, seeming to ignore everything but swimming.
Harmony with place, with animals and in relationships was crucial to Colville's world view. Characteristically, Swimming Dog and Canoe is composed and rendered with a precision that not only reflects, but in fact establishes these harmonies. For example, the notably horizontal format of the painting allows Colville to echo the "landscape" layout of the shoreline with the form of the long canoe, as it carves a line through the water in the same direction that the dog swims. The strong horizontal momentum is broken only by the two erect figures, the angle at which Colville holds his paddle in the rear of the canoe and, crucially, by the V-shaped wake made by the dog as he paddles. Carefully rendered reflections in the water near the boat add a subtle variety to this meticulous composition. The scene is calm, fully integrated, but not dull.
While always precise in its visual detail, Swimming Dog and Canoe maintains a notable softness. We see the direction of the Colvilles' faces as they look towards the dog (and us), but we cannot read an expression on either visage. Nothing is left to chance in Colville's work, so it is likely that our inability to read the Colvilles' faces stands in purposeful contrast to the intensity of the dog's gaze, which we cannot ignore. We observe the dog seeing and perhaps, typically, we ascribe human thoughts, emotions or intentions to the animal. But the very prominence and exact rendering of the dog's eye should lead us to question the larger, philosophical dimensions of "vision."
Here and in many other prominent paintings by Colville—such as Dog and Priest, 1978 (in the collection of the National Gallery of Canada), which features the same Labrador retriever—our human harmony with animals is a profound good that Colville applauds. But he does not equate animals' seeing with our own. Instead, in Swimming Dog and Canoe, he depicts harmony and difference. This painting exemplifies why Colville's work has fascinated Canadian and international audiences since it came to prominence in the 1950s. It is accessible, intelligent, and constantly rewards our attention to both its surface and its depths of meaning.
We thank Mark Cheetham, Professor of Art History at the University of Toronto and author of Alex Colville: The Observer Observed, for contributing the above essay.


Estimate:
$300,000 ~ $500,000 CAD
Sold for:
$1,180,000 CAD (including Buyer's Premium)

All prices are in Canadian Dollars.
Although great care has been taken to ensure the accuracy of the information posted, errors and omissions may occur. All bids are subject to our Terms and Conditions of Business.