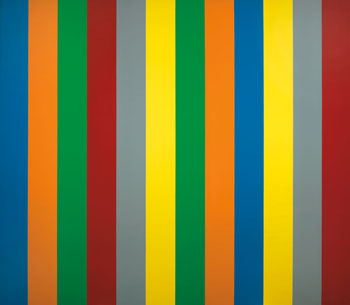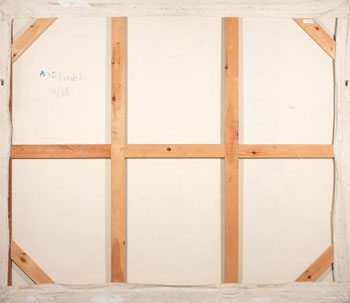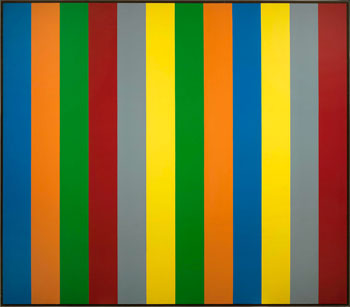 Lot # 011
Spring 2016 - 1st Session Live auction

Guido Molinari
AANFM LP QMG RCA SAPQ 1933 - 2004 Canadian

Sans titre
acrylic on canvas
on verso signed and dated 4/68
84 x 96 in 213.4 x 243.8cm

Provenance:
Estate of the Artist

Literature:
Guido Molinari, caption for Getty Images photograph by Frank Lennon, Toronto Star, March 13, 1969
Dennis Young, 49th Parallels: New Canadian Art, Ringling Museum of Art, 1971, unpaginated
Andrew Hunter, "Exciting Changes Are Happening in the Thomson Collection of Canadian Art," Art Matters Blog, Art Gallery of Ontario, January 10, 2016, https://artmatters.ca/wp/2016/01/new-canadian/, accessed February 11, 2016

Sans titre is from Guido Molinari's Bi-serial series, the series he and curator Brydon Smith chose for an exhibition of nine paintings when Molinari represented Canada at the 34th Venice Biennale in 1968. This series of large-scale canvases with vertical stripes, all of equal width, was the first to bring widespread recognition to Molinari outside of Canada. He was awarded the David E. Bright Foundation Award in Venice, an extremely prestigious award won previously by artists such as Sir Eduardo Paolozzi and Sir Anthony Caro. The 1960s was a decade of outstanding achievement for Molinari—the National Gallery of Canada purchased its first painting by him in 1963 (it now has 69 of his works in its collection); he had a solo exhibition Guido Molinari: Recent Paintings in Regina and Vancouver in 1964; he was included in The Responsive Eye at the Museum of Modern Art, New York, in 1965; and in 1968 he showed at the Hayden Gallery at the Massachusetts Institute of Technology.
Like all of the Bi-serial paintings, Sans titre was developed by dividing a canvas into a series of interrelated sequential groupings of coloured vertical stripes. Sans titre can be considered to be bilaterally symmetrical, except that the sequencing of colour bars appears in a different order as the groups of six stripes repeat on the left and right side of the canvas. Molinari was interested in colour relationships, and in the degrees of similarity and difference in rhythmic sequences of repeating colours. Dennis Young wrote: "His serial repetitions produce slight changes of resonance in each colour note across the work. By this method of repetition, Molinari implies a discursive, temporal reading of the canvas, which, like the tonalities used, is aimed at mitigating the figure-ground gestalt that Mondrian himself could not elude...The colour hovers near the painted surface and the gestalt potential of the work remains unfirm: just as each hue makes a slight equivocation where it abuts an adjoining colour."
The richness of Molinari's art seen in paintings like Sans titre from 1968 is a direct result of the unrelenting rigour of the concepts that underlie his paintings and, even more importantly, the complexity of reactions each painting engenders in viewers. Pierre Théberge, curator of Molinari's major survey exhibition at the National Gallery of Canada in 1976, described these striped canvases as "a new pictorial space." In 1969, Molinari described it as "doing away with the distinction between figure and ground. There is a unity between man and his surroundings, and my paintings express it by permitting the viewer to enter the painting."
Molinari's painting practice was based on what he called colour / space—how colours actually perform when placed side by side across the surface of a painting and the emotional response in viewers as their eyes scan across or read the changing sequences of colour. Molinari's striped paintings are anything but cool abstraction. The fully saturated colours, each applied with a paint roller and abutted with a precision he called a "razor-edge," set up the dynamic movement between the density of colour stripes, as you see them not in a single gestalt, but across time and through space. Molinari brought duration into the experience of painting. Each colour changes as your eye moves across an essentially flat surface, influenced by the hue of adjacent stripes.
In his 2016 article for the Art Gallery of Ontario's magazine Art Matters, curator Andrew Hunter wrote: "Guido Molinari was a clear standout in Quebec during his own time. Krieghoff's work offers a way of imagining Lower Canada / Quebec in mid-19th century, and 100 years later we have these Molinari works that clear away the old thinking and hit the reset button with his modern vision. So these are bold, modern paintings and also quite strong political statements."
We thank Gary Dufour, Adjunct Associate Professor at the University of Western Australia, who was the curator of the exhibition Guido Molinari, 1951 – 1961: The Black and White Paintings, shown at the Vancouver Art Gallery, the Art Gallery of Windsor and the Art Gallery of Ontario in 1989 – 1990, for contributing the above essay.


Estimate:
$100,000 ~ $150,000 CAD
Sold for:
$354,000 CAD (including Buyer's Premium)

All prices are in Canadian Dollars.
Although great care has been taken to ensure the accuracy of the information posted, errors and omissions may occur. All bids are subject to our Terms and Conditions of Business.