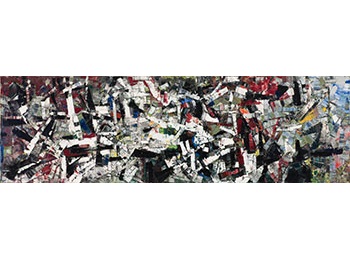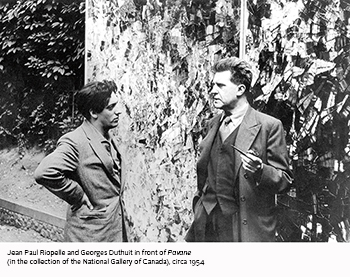 Lot # 036
Spring 2013 - 1st Session Live auction

Jean Paul Riopelle
AUTO CAS OC QMG RCA SCA 1923 - 2002 Canadian

Composition / Sans titre
oil on canvas 1955
on verso titled Composition on the Marlborough-Godard label
24 3/4 x 80 3/4 in 62.9 x 205.1cm

Provenance:
Marlborough-Godard, Toronto
Acquired from the above by a Private Collection
Sold sale of Canadian Post-War & Contemporary Art, Heffel Fine Art Auction House, May 15, 2013, lot 36
Private Collection

Literature:
Hélène de Billy, Riopelle, 1996, page 155
Yseult Riopelle, Jean Paul Riopelle Catalogue Raisonné, Volume 2, 1954 - 1959, 2004, reproduced page 212, 1955.073H.1955, titled as Sans titre

This well-known painting, entitled Composition (also known as Sans titre and reproduced in the catalogue raisonné), belongs to Jean Paul Riopelle's important period of the 1950s. It is a completely abstract work, giving the feeling of an all-over composition (with no hierarchy between the elements and no points of focalization on the entire surface) but is not completely flat, since the superposition of white strokes on the darker background creates an illusion of some depth. In fact, this minimal characterization does not acknowledge the subtleties of colours one sees here and there, especially as we progress from left to right. It is as if this predominantly black and white painting could give a sign of illumination in the course of its own development.

Riopelle wrote in a text prepared for his 1951 presentation at Véhémences confrontées, an exhibition organized in Paris at the Galerie Nina Dausset, that the painter Georges Mathieu was hoping to "confront" the French and American avant-garde with the idea that the only issue open to the painter was the hasard total (total hazard or chance). This meant that the painter should not know in advance how his painting would develop, but instead should proceed by responding to the new situation created at each stroke of the painting knife applying colours on the canvas. Hazard or chance in this situation is not opposed to consciousness and control. In the process of making the painting, the artist remains conscious of the situation created (or modified) by each of his interventions and intends to control the whole.

It is not surprising that Riopelle liked to work without witnesses around him when he was painting. They would only have disturbed the extreme concentration necessary to make the work. I know of only one case of someone who saw him painting. The bookseller Robert Keane, who owned a barn at Long Island, witnessed him painting and wrote:

"I will never forget this scene. First, he did not paint with a brush but rather with what looked like a putty knife. Second, judging by the hundreds of empty tubes that lay at his feet, he was using a phenomenal quantity of paint. He did not unscrew his tubes. He decapitated them in one move with his knife without ever using the cap. Red, blue, or green: the colours appeared suddenly at the tip of his fingers. Because that is how he was doing it: he held all the tubes (say three or four or as many as his hand could hold) in his fist and then either poured them directly on the canvas or managed to have one colour mixing with the next by pressing the tubes in a certain way."

This description perfectly applies here and gives us a hint of Riopelle's dexterity and his amazing control of technique. Technique is important, but it is not all. The result is the main issue, and here we can say that the result is completely satisfying. The liveliness, the dynamism of this painting – which one dreams could continue endlessly on the left or on the right – is the best proof of this.

We thank the late François-Marc Gagnon (1935 - 2019), formerly of the Gail and Stephen A. Jarislowsky Institute of Studies in Canadian Art, Concordia University, for contributing the above essay in 2013.



All prices are in Canadian Dollars.

Although great care has been taken to ensure the accuracy of the information posted, errors and omissions may occur. All bids are subject to our Terms and Conditions of Business.