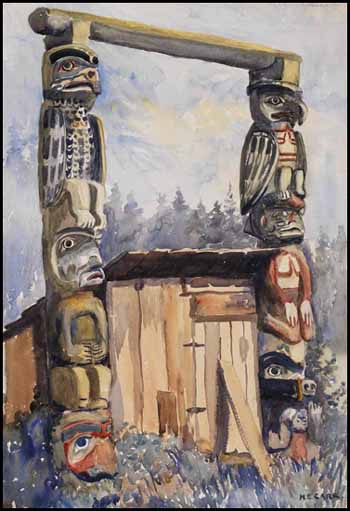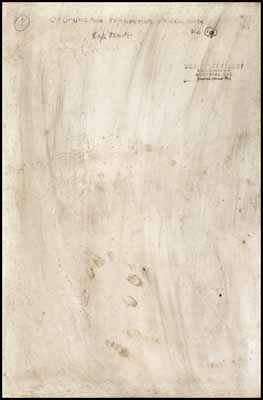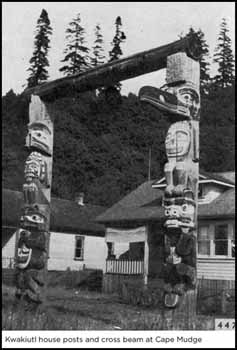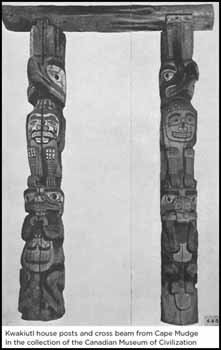 Lot # 154
Spring 2013 - 2nd Session Live auction

Emily Carr
BCSFA CGP 1871 - 1945 Canadian

Cape Mudge Totem Poles
watercolour on paper circa 1909 ~ 1912
signed ME Carr and inscribed in graphite "Chief Chekiuite" and on verso titled on the Laing Galleries label and in graphite "Cape Mudg" [sic], inscribed in graphite "Cad Mudg [sic] Pole Supporting Chicken House" and stamped Dominion Gallery
22 x 15 1/4 in 55.9 x 38.7cm

Provenance:
Dominion Gallery, Montreal
Laing Galleries, Toronto
Sold sale of American & European Paintings and Drawings, Weschler's, March 4, 1995, lot 20, reproduced cover lot
Private Collection, USA

Literature:
Emily Carr, "Modern and Indian Art of the West Coast", Supplement to the McGill News, June 1929, page 22
Emily Carr, Growing Pains manuscript, Carr Papers, Royal BC Museum and Archives, undated, unpaginated
Marius Barbeau, Totem Poles, National Museum of Canada, 1950, a 1912 related work entitled Kwakiutl Village reproduced page 702 and two photographs showing similar totem poles reproduced pages 704 and 705
Gerta Moray, Northwest Coast Native Culture & the Early Indian Paintings of Emily Carr, 1899 - 1913, Volume 2: Catalogue and Illustrations, Doctoral dissertation, University of Toronto, 1993, page 19, listed as E 2/3, Cape Mudge Pole Supporting Chicken House
Emily Carr, Growing Pains: The Autobiography of Emily Carr, 2005, page 279
Gerta Moray, Unsettling Encounters: First Nations Imagery in the Art of Emily Carr, 2006, page 95

Watercolour was Emily Carr's primary painting medium in her early career. We see her use it in the latter years of the nineteenth century, which saw her visit the First Nations village in Ucluelet. She also produced a number of watercolours of the Squamish First Nations village in North Vancouver, Stanley Park and the environs of Victoria after her return to British Columbia following her training in England. Carr's more serious engagement with First Nations subject matter began with a trip that she and her sister Alice took to Alaska in the summer of 1907. The sight of totems in Alert Bay and Sitka made Carr realize that these monumental sculptures were worthy of her attention. She responded to the forms of the totems, even if she sometimes did not understand their significance to the First Nations people. She also realized that these poles and houses were threatened by decay and neglect, and this realization seems to have been the origin of her plan to document the totemic works of the coastal First Nations. She returned to northern British Columbia during the three subsequent summers and visited T'sakwa'lutan / Cape Mudge on Quadra Island in the summer of 1909. She produced a small number of watercolours, among them Cape Mudge Totem Poles. It does not appear that Carr had any intention of producing oils from these field studies at this point. By the time she had made her fourth trip north in 1910, she resolved to go to France and take more training.
Interestingly enough, Carr took some of what she referred to in her Growing Pains manuscript as her "Indian sketches" with her to France and "repainted" some of them in light of her new "bigger methods" learned in France. It is possible that this work was one of these reworked studies, because it is remarkable for the sensitive handling of colour, form and light. Particularly noteworthy is the subtle treatment of the plank that holds the door of the small hut closed. The shadow is wonderfully observed and conveys a real sense of space.
This work is highly accomplished, and sensitive to the details of the two house poles. The poles are boldly carved and painted with eagles atop human figures (male on the left and female on the right) and the figures stand, in turn, on bears. The small hut between the two poles is a chicken house. We know this from the inscription on verso of this work, and from the painting based on this watercolour that Carr produced in 1912 – Kwakiutl Village, in a private collection – which introduces figures feeding chickens. Emily Carr also writes of her encounter with the owner of the poles, perhaps Chief Chekiuite, in her essay Modern and Indian Art of the West Coast written for 1929's McGill News:
"Once an old man returned from fishing and found me sketching his poles. 'Go away, you stealing my poles' he shouted. I explained that they were beautiful and I wanted to show them to my friends. 'Why not ask me?' 'How could I when you weren't home?' 'That's so, get along and finish.' 'Why did you put your poles in front of your chicken house and not in front of your house?' 'My house velly strong – my chicken house velly weak – poles fix him strong.'"
The notable differences between the two compositions (field study and canvas) reveal that, for Carr, watercolours such as Cape Mudge Totem Poles, done in the field, were essential to allowing her to develop the larger canvases of 1912.
Gerta Moray suggests that the 1909 watercolours were used by Carr to produce a series of canvases in early 1912, before she went sketching in the summer. There is support for this idea in Carr's writings. As Moray notes, upon Carr's return from France, she did not return to her previous teaching job, and wrote in Growing Pains, "Having so few pupils, I had much time to study. When I got out my Northern sketches and worked on them I found that I had grown. Many of these old sketches I made into large canvases."
These canvases set the stage for the major work of the summer of 1912 and saw Carr apply her new Fauvist painting skills to "the bigger material of the west" as she described it in her Growing Pains manuscript. Based on the acutely observed studies of 1908 - 1910, they establish Carr as the most significant painter working in British Columbia. The canvases would have been impossible without watercolours such as this one, and the richness of these images done from on-the-spot observation is still evident today. Watercolours such as Cape Mudge Totem Poles reveal Carr as an artist of skill in both composition and colour, with a firm grasp of her medium and an individual voice.
On verso of this work is a graphite drawing of the totem pole.


Estimate:
$150,000 ~ $250,000 CAD
Sold for:
$380,250 CAD (including Buyer's Premium)

All prices are in Canadian Dollars.
Although great care has been taken to ensure the accuracy of the information posted, errors and omissions may occur. All bids are subject to our Terms and Conditions of Business.