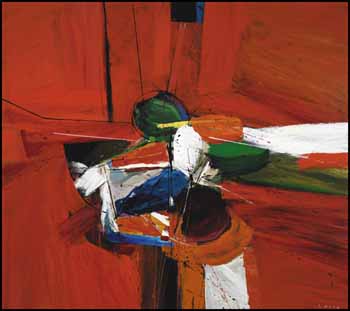 Lot # 007
Spring 2013 - 1st Session Live auction

Gordon Appelbe Smith
BCSFA CGP CPE OC RCA 1919 - Canadian

Red Beach
oil on canvas
signed and on verso titled and dated 1965 on the gallery label
36 x 40 in 91.4 x 101.6cm

Provenance:
Galerie Agnès Lefort, Montreal
An Important Montreal Collection

Literature:
Anthony Emery, Ten Years of Painting by Gordon Smith, Fine Arts Gallery, University of British Columbia, 1966, unpaginated

Exhibited:
Galerie Agnès Lefort, Montreal, Gordon Smith, 1965

By the time Gordon Smith painted this vibrant canvas, he was a well-established presence on the national art scene. He had trained in Winnipeg, Vancouver and San Francisco, and his painting Structure with Red Sun, 1955, had won first prize at the National Gallery of Canada's First Biennial Exhibition of Canadian Painting and been acquired for their collection. He was already an important teacher, working since 1956 at the University of British Columbia and teaching in Banff, Jasper and elsewhere. In 1957 he had served as the president of the Canadian Group of Painters, and in the same year had one-man exhibitions at both the Vancouver Art Gallery and the Art Gallery of Greater Victoria. Widely traveled, he had studied art history at Harvard University, and later spent much of 1960 in England and Europe on a Canada Council senior fellowship. He had regularly been exhibiting his work in both juried and commercial shows in Vancouver, Toronto and Montreal; he first exhibited with Galerie Agnès Lefort in Montreal in 1963. He had also, in the beginning of his career, worked with architects on large-scale pieces, producing a mosaic mural of considerable size for architect Arthur Erickson's Simon Fraser University in 1964.
Red Beach was shown in his third exhibition at Galerie Agnès Lefort in 1965. It reveals Smith as an accomplished and confident painter. Comfortable with the language of abstraction, something he had explored extensively in the summer of 1951 when he trained with Elmer Bischoff in San Francisco, Smith was also deeply interested in the landscape, having bought his first boat in 1958 to explore the coastline around Vancouver. He had developed a visual language that was contemporary, but at the same time retained some connections to the natural world. Smith had also employed, since the 1950s, a system of grids, notably in works such as Structure with Red Sun and Wet Night (collection of the Vancouver Art Gallery). The dialogue between the order represented by the grid and Smith's relish in the disorder - the messiness of paint - gives works such as Red Beach a sense of energy and excitement. Produced at the same time as the well-known Red Wizard Red (in a private collection), Red Beach combines a vivid use of colour, a strong linear design and bold brushwork. The title alludes to the natural world, and the image may depict the chance amalgamation of flotsam on a beach, but for Smith the "subject" of the work is secondary to our experience of colour and paint and how they are applied to the surface. The work is deliberately explosive; the grid is only just able to restrain the forms, which seem ready to move – in which direction we cannot tell. Red Beach is not a quiet painting, nor was it intended to be. Smith was aware that it would be shown in Montreal, the home of Guido Molinari, Yves Gaucher and other important abstractionists: if his work was to succeed in that environment, boldness and conviction were required. These qualities are clearly evident in Red Beach.
The following year, Smith had the first major survey exhibition of his work, Ten Years of Painting by Gordon Smith. Organized by Alvin Balkind for the University of British Columbia Fine Arts Gallery, it traveled nationally and was an outstanding success because, as Balkind wrote at the time, Smith was "a man who has, for well over ten years, consistently produced some of the most notable and striking – and strikingly handsome – paintings that Canada has seen in recent decades." Almost 50 years after it was painted, "strikingly handsome" remains an apt and accurate description of Red Beach.


Estimate:
$20,000 ~ $30,000 CAD
Sold for:
$93,600 CAD (including Buyer's Premium)

All prices are in Canadian Dollars.
Although great care has been taken to ensure the accuracy of the information posted, errors and omissions may occur. All bids are subject to our Terms and Conditions of Business.