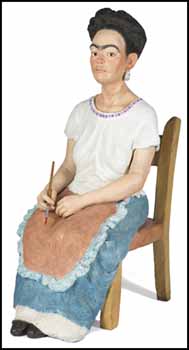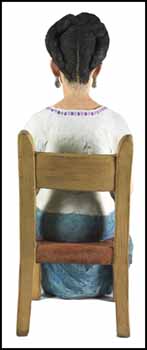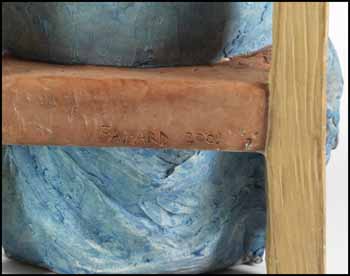 Lot # 048
Spring 2013 - 1st Session Live auction

Joseph Hector Yvon (Joe) Fafard
OC RCA 1942 - 2019 Canadian

Frida
bronze sculpture with patina and acrylic paint
signed, titled, editioned 6/7 and dated 2001
26 3/4 x 10 7/8 x 17 in 67.9 x 27.6 x 43.2cm

Provenance:
Private Collection, Montreal

Literature:
André Breton, Surrealism and Painting, 1928, English translation 1972 / 2001, page 144
Terrence Heath, Joe Fafard, National Gallery of Canada and the MacKenzie Art Gallery, 2007, page 128, reproduced page 197, listed page 222

Exhibited:
National Gallery of Canada, Ottawa, Joe Fafard, February 1 - May 4, 2008, traveling in 2008 - 2009 to the MacKenzie Art Gallery, Regina, the McMichael Canadian Art Collection, Kleinburg, the Art Gallery of Nova Scotia, Halifax, the Glenbow Museum, Calgary and the Winnipeg Art Gallery, same image, catalogue #64

In the early 1980s Joe Fafard began to create portraits of well-known artists in clay and bronze, such as Dutch Post-Impressionist Vincent van Gogh. He had read van Gogh's letters to his brother Theo, and the insight into van Gogh's intense struggle as an artist profoundly affected him. After reading the letters, Fafard stated, "I felt a bit like a novice studying the lives of the saints." This could also apply to the subject of this powerful sculpture, Frida Kahlo, renowned Mexican painter and wife of artist Diego Rivera, whose passion for painting and life transcended the physical suffering she endured from an accident while a teenager. Kahlo often painted self portraits, and her work was a raw and uncompromising expression of the female experience. The power of her images was such that André Breton, initiator of the Surrealist movement, described her art as "a ribbon around a bomb". In this bronze, she wears her customary traditional Mexican clothing, and holds a paintbrush, indicating her dedication to painting. Fafard sought to portray the inner life of the artist and, in Frida, captures a living essence that is arresting.


Estimate:
$30,000 ~ $40,000 CAD
Sold for:
$32,175 CAD (including Buyer's Premium)

All prices are in Canadian Dollars.
Although great care has been taken to ensure the accuracy of the information posted, errors and omissions may occur. All bids are subject to our Terms and Conditions of Business.