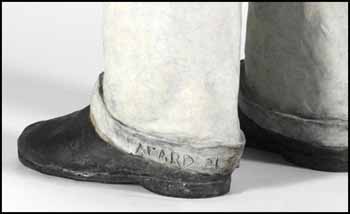 Lot # 047
Spring 2013 - 1st Session Live auction

Joseph Hector Yvon (Joe) Fafard
OC RCA 1942 - 2019 Canadian

Diego
bronze sculpture with patina and acrylic paint
signed, editioned 7/7 and dated 2001
35 x 12 1/4 x 8 in 88.9 x 31.1 x 20.3cm

Provenance:
Private Collection, Montreal

Literature:
Terrence Heath, Joe Fafard, National Gallery of Canada and the MacKenzie Art Gallery, 2007, page 128, reproduced page 196

Exhibited:
National Gallery of Canada, Joe Fafard, February 1 - May 4, 2008, traveling in 2008 - 2009 to the MacKenzie Art Gallery, Regina, the McMichael Canadian Art Collection, Kleinburg, the Art Gallery of Nova Scotia, Halifax, the Glenbow Museum, Calgary and the Winnipeg Art Gallery, same image, catalogue #63

Diego Rivera was a prominent Mexican painter, known for his extraordinary murals and his socially and politically conscious subject matter – he was a founder of the Revolutionary Union of Technical Workers, Painters and Sculptors, and a member of the Mexican Communist Party. His was a tumultuous and passionate life – and he was, of course, the husband of Frida Kahlo, the subject of lot 48 in this sale. Rivera was well known internationally, and in 1931 a retrospective of his work was held at the Museum of Modern Art in New York. It is not surprising that this trail-blazing and charismatic artist would have attracted Joe Fafard while he was working on his series of portraits of artists in his foundry in Pense, Saskatchewan. Terrence Heath writes, "In his portraits of these artists, Joe explores not only their likenesses and the life experiences that have moulded their features, posture and stance, but also the way they painted." In Diego, Fafard embodies Rivera's warmth, stout physicality and confidence, brilliantly capturing a visceral and alive presence in bronze.


Estimate:
$30,000 ~ $40,000 CAD
Sold for:
$32,175 CAD (including Buyer's Premium)

All prices are in Canadian Dollars.
Although great care has been taken to ensure the accuracy of the information posted, errors and omissions may occur. All bids are subject to our Terms and Conditions of Business.