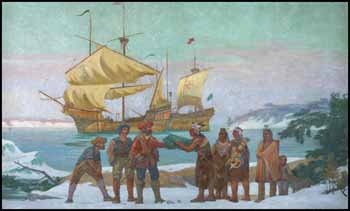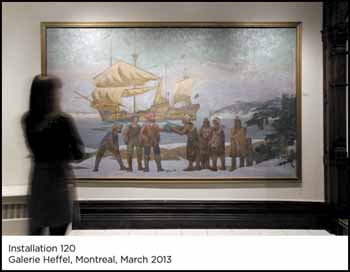 Lot # 120
Spring 2013 - 2nd Session Live auction

Robert Wakeham Pilot
CGP OSA PRCA 1898 - 1967 Canadian

Early Explorers
oil on canvas on board
signed and dated 1929
72 x 122 5/8 in 182.9 x 311.4cm

Provenance:
The PSBGM Cultural Heritage Foundation

Literature:
Marilyn McKay, "Canadian Historical Murals 1895 -1939, Material Progress, Morality and the 'Disappearance' of Native People", Journal of Canadian Art History, Volume XV, #1, 1992, page 63, http://jcah-ahac.concordia.ca/en/archive/1992_15-1, accessed February 20, 2013

In an interesting article, Marilyn McKay of the Nova Scotia College of Art and Design indicated that, in the early 1990s, the location of a Robert Pilot mural completed for the High School of Montreal was unknown. She will be pleased to learn that not only this mural, but also another of Pilot's historical paintings have been found, and will now be auctioned at Heffel. Both are large-scale works and have been put up for sale by the PSBGM Cultural Heritage Foundation with the intention that the proceeds raised from this sale will provide post-secondary scholarships to current and future English Montreal School Board graduates.
Early Explorers depicts an encounter between Jacques Cartier and two of his men with Dom Agaya, the son of Donnacona, the Iroquois chief of Stadacona (Quebec City). Dom Agaya is providing Cartier with Eastern White Cedar boughs (Thuya occidentalis) to help his men recover from scurvy. This was a disease that resulted from a vitamin C deficiency, which was common among sailors and pirates who were deprived of fruits and vegetables for long periods. Dom Agaya stripped cedar needles from a nearby White Cedar tree and proceeded to boil them into a tea, which he offered to Cartier to drink. It would heal them, he said. Cartier declined, still apprehensive that it was a plot to poison them, but a few desperate men eagerly volunteered and drank it anyway - better to die quickly from poison than to suffer the prolonged and horrendous death of scurvy. Surprisingly, they felt better almost immediately. More tea was made, and within eight days one tree had been stripped bare, but the Frenchmen were cured of scurvy.
This is a rare example in the documents of the time where the medical knowledge of the natives is presented as superior to European settlers' knowledge, and indeed it is a rare subject in historical murals of the period, where the common theme was to praise European technology as superior to that of the natives. However, the presence of ships in Pilot's painting is certainly to reestablish the Eurocentric "balance". In fact, this native "superiority" would quickly be forgotten in favour of the work of Scottish physician James Lind (1716 - 1794), who pioneered naval hygiene in the Royal Navy. By conducting the first-ever clinical trial, Lind developed the theory that citrus fruits cured scurvy.
Pilot, known for his views of Quebec, reveals himself here as interested in an historical subject on a grand scale. The triangular composition set up by the men and the ship in the background is perfectly balanced, the setting in a winter landscape makes sense considering the subject matter, and the opposition between the engaging Europeans - see the man on the extreme left - and, on the right, the rather "inactive, emotionless Native Canadians", to quote McKay, reflects the prejudices of the time. Nevertheless, Pilot's painting demonstrates the need to use history in an educational context, an idea sponsored by the Group of Seven painter Arthur Lismer, among others. It was seen as crucial to developing the national consciousness of Canadians.
We thank François-Marc Gagnon of the Gail and Stephen A. Jarislowsky Institute of Studies in Canadian Art, Concordia University, for contributing the above essay.


Estimate:
$100,000 ~ $150,000 CAD
Sold for:
$50,000 CAD (including Buyer's Premium)

All prices are in Canadian Dollars.
Although great care has been taken to ensure the accuracy of the information posted, errors and omissions may occur. All bids are subject to our Terms and Conditions of Business.