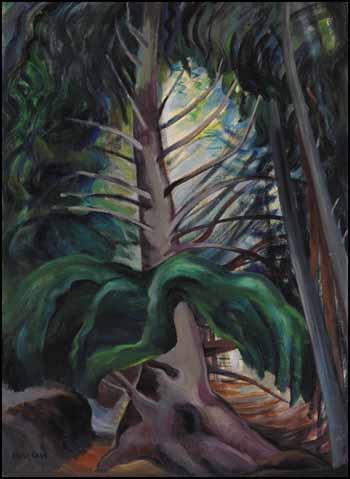 Lot # 156
Spring 2013 - 2nd Session Live auction

Emily Carr
BCSFA CGP 1871 - 1945 Canadian

Old Timer
oil on canvas 1931 ~ 1932
signed and on verso titled and inscribed "$50" on a label
27 x 20 in 68.6 x 50.8cm

Provenance:
Donated by Emily Carr to a charity auction at the Vancouver Art Gallery in aid of the Red Cross in the Second World War, 1942
Acquired from the above by Alice Hemming, Vancouver, 1942, then to London, England, 1944
By descent to the present Private Collection, London, England

Literature:
Doris Shadbolt, Emily Carr, National Gallery of Canada, 1990, listed in the catalogue addendum
Emily Carr, Hundreds and Thousands, The Journals of Emily Carr, 2006, page 49

Exhibited:
National Gallery of Canada, Ottawa, Emily Carr, June 29 - September 3, 1990, catalogue #134

Inscribed on verso "Old Timer by Emily Carr" and "Given by Emily Carr for auction (written bids) by the Vancouver Art Gallery in aid of the Red Cross in the Second world war - 1942 - and bought by Alice Hemming at that sale. (E.C. was pleased about this) (She was a regular listener to the CBC programme 'A Morning Visit with Alice Hemming')"

In 1927, Emily Carr's work was included in the Exhibition of Canadian West Coast Art: Native and Modern. The exhibition marked her debut in the larger world of Canadian art and re-launched her career as an artist. In the exhibition she showed a selection of her 1912 First Nations canvases, some of her ceramics and her rag rugs. This recognition of Carr as an artist was of critical importance for her career. She was welcomed as an important participant in the modernist movement in Canadian art and met members of the Group of Seven including Frederick Varley, A.Y. Jackson, Arthur Lismer and, most importantly, Lawren Harris. The reception her work received from fellow artists encouraged her to return full force to painting and subsequently, in the late twenties and early thirties, produced some of her most memorable totemic canvases, such as Totem and Forest and Big Raven, both in the collection of the Vancouver Art Gallery.
Harris and Carr began a lengthy correspondence that was a major source of inspiration and support to Carr, working as a relatively isolated figure in Victoria. Harris, while enthusiastic about Carr's totemic work, encouraged her to focus more on the landscape of her native province. Her approach to the landscape was shaped by advice from both Harris and the young American artist, Mark Tobey, with whom she had a workshop in the fall of 1928. Likely at the suggestion of Tobey, Carr devoted a significant period of time to drawing the forests of the province in a series of charcoal drawings that helped her to define spatial volumes more convincingly and paved the way for the series of major landscape canvases beginning in the late twenties and early thirties. These works are among the most abstract and mysterious of her landscapes: Grey, 1929 –1930, in a private collection, Tree Trunk, 1931, and the magisterial Forest, British Columbia, 1931, both in the collection of the Vancouver Art Gallery. These canvases see her grappling with volume, colour and light with a new conviction and power. The last factor, light, was critical for Carr in conveying the inner life of the forest and is key to the success of Old Timer. This exceptional work pulsates with a vibrant light that silhouettes the structure of the tree, defines the volumes of the foliage and makes vividly sculptural the central tree. The whole canvas has a strong upward surge, which reflects the rich abundance and life of the coastal forest. Carr celebrates the continued vitality of this magnificent old tree.
We see the 'Old Timer' within what Carr herself described as "A forest done in simple movement, just forms of trees moving in space." Clearly, however, the whole is more than the sum of the parts, more than "forms of trees moving in space". In this exceptional canvas, Carr takes command of her subject matter – the landscape of her beloved province – like no other artist before or after her. Old Timer is a magnificent canvas that reveals the profound beauty and spiritual power of the forests of British Columbia and Carr's special place in helping define our relationship to them.
This radiant canvas was generously donated by Carr to support the Red Cross in World War II, and was purchased by Alice Hemming, a radio host at the Canadian Broadcasting Corporation. As the inscription on verso indicates, Carr listened to Hemming's daily radio programme, "A Morning Visit with Alice Hemming", and was pleased to learn that she was the purchaser. Hemming was also familiar with Carr through their mutual friend Ira Dilworth, who was also a long-term employee at the CBC and a very important figure in Carr's later life - as confidante, literary editor and co-executor of her estate. This rare painting has been passed down within the family until its consignment to Heffel and its return to Canada this year.


Estimate:
$400,000 ~ $600,000 CAD
Sold for:
$936,000 CAD (including Buyer's Premium)

All prices are in Canadian Dollars.
Although great care has been taken to ensure the accuracy of the information posted, errors and omissions may occur. All bids are subject to our Terms and Conditions of Business.