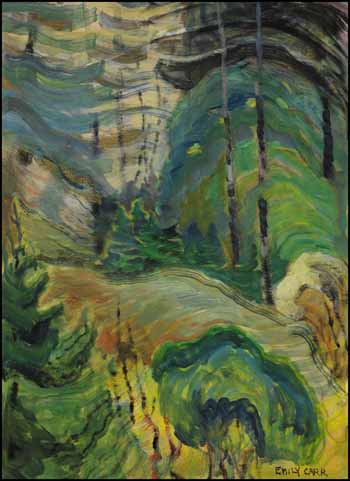 Lot # 167
Spring 2013 - 2nd Session Live auction

Emily Carr
BCSFA CGP 1871 - 1945 Canadian

Forest Interior
oil on paper on board circa 1936
signed and on verso titled on the Dominion Gallery label and inscribed with the Dominion Gallery inventory #D4178
22 3/4 x 16 in 57.8 x 40.6cm

Provenance:
Dominion Gallery, Montreal
The Collection of Dr. John A. MacAulay, Winnipeg
Private Collection, Vancouver

Literature:
Doris Shadbolt, The Art of Emily Carr, 1979, a similar circa 1936 Untitled oil on paper work, in the collection of the Maltwood Art Museum and Gallery, University of Victoria, reproduced page 214
Emily Carr, Hundreds and Thousands, The Journals of Emily Carr, 2006, pages 265 and 273

Emily Carr's depictions of inner forests ranged from solemn to tender and joyous, such as in this fluid, energized oil on paper work. In Forest Interior, painted in a free and expansive manner, Carr is attuned to the pulse of life. The foreground is lush forest undergrowth, which she described in her journal as "a sea of sallal [sic] and bracken, waving, surging, rolling towards you. Green jungle...solid, yet the very solidity full of air spaces." With her technique of oil washes on paper, Carr could work directly in the forest. She captured what she perceived with sweeping brush-strokes, finding "themes everywhere, something sublime...or joyous, or calm, or mysterious. Tender youthfulness laughing at gnarled oldness. Moss and ferns, and leaves and twigs, light and air, depth and colour chattering, dancing a mad joy-dance, but only apparently tied up in stillness and silence. You must be still in order to hear and see."
This beautiful painting was once owned by the prominent Winnipeg collector Dr. John MacAulay, whose collection included the extraordinary Carr canvas Wind in the Tree Tops, which Heffel sold for a record price in June of 2009.


Estimate:
$50,000 ~ $70,000 CAD
Sold for:
$140,400 CAD (including Buyer's Premium)

All prices are in Canadian Dollars.
Although great care has been taken to ensure the accuracy of the information posted, errors and omissions may occur. All bids are subject to our Terms and Conditions of Business.