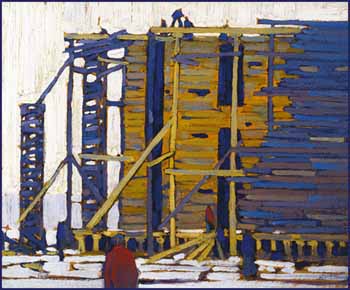 Lot # 159
Spring 2012 - 2nd Session Live auction

Lawren Stewart Harris
ALC BCSFA CGP FCA G7 OSA RPS TPG 1885 - 1970 Canadian

Building the Ice House, Hamilton
oil on panel
on verso signed twice, titled, dated 1912 and numbered variously
10 5/8 x 12 3/4 in 27 x 32.4cm

Provenance:
Collection of the Artist
By descent within the family of the Artist, Vancouver
Sold sale of Fine Canadian Art, Heffel Fine Art Auction House, November 14, 2002, lot 20
Private Collection, Toronto

Literature:
Doris Mills, L.S. Harris Inventory, 1936, listed as Group 3 (3/32) Houses Sketches, location noted as the Studio Building
Lawren Harris, Mayfair, Volume XXII, No. 10, November 1948, reproduced page 75
Andrew Bell, "Lawren Harris – A Retrospective Exhibition of His Painting 1910 - 1948", Canadian Art, Volume VI, No. 2, Christmas 1948, reproduced page 53
Bess Harris and R.G.P. Colgrove, Lawren Harris, 1969, reproduced page 23
Peter Mellen, The Group of Seven, 1970, reproduced page 206
Dennis Reid, The Group of Seven, National Gallery of Canada, 1970, page 57, reproduced page 59
Jeremy Adamson, Lawren S. Harris: Urban Scenes and Wilderness Landscapes 1906 - 1930, Art Gallery of Ontario, 1978, reproduced page 68
Andrew Hunter, Lawren Stewart Harris: A Painter's Progress, The Americas Society, 2000, reproduced page 15

Exhibited:
The Art Gallery of Toronto, Lawren Harris: A Retrospective, 1910 - 1948, 1948, catalogue #100
National Gallery of Canada, The Group of Seven, 1970, traveling to the Musée des beaux-arts de Montréal, catalogue #27
Art Gallery of Ontario, Lawren S. Harris: Urban Scenes and Wilderness Landscapes 1906 - 1930, 1978, catalogue #43
High Museum of Art, Atlanta, The Advent of Modernism, 1986, traveling to the Center for Fine Arts, Miami, the Brooklyn Museum and the Glenbow Museum, Calgary, catalogue #37
The Americas Society, New York, Lawren Stewart Harris: A Painter's Progress, 2000, catalogue #3

Inscribed on verso: "Property Bess Harris, Bess Harris Collection" in graphite, with the Doris Mills Inventory #3/32 (crossed out) and with the artist's symbol
While it is commonplace to see Lawren Harris as a great painter of the Canadian wilderness, his importance as a painter of the life and landscape of Canada's cities is less well known. Despite the general lack of knowledge of this aspect of his career, Harris can be placed among the most important painters of urban life in the early part of the twentieth century. In works from 1910 onwards, Harris depicted the houses and to a lesser extent the industrial life of the city (principally Toronto but also Hamilton and Halifax). The early canvas The Gas Works (in the collection of the Art Gallery of Ontario) is the first important composition which might be termed "urban industrial". Whereas that work is relatively conventional in composition and subdued in colour, Building the Ice House, Hamilton is, in contrast, boldly unconventional in composition and makes brilliant use of colour. Rightly described by Dennis Reid as "amazing", this sketch is among Harris's finest early achievements. Despite being 100 years old, the painting is startlingly modern and remains visually compelling. Although the painting is modest in scale, it is far from modest in ambition and, more importantly, achievement. Harris starts with the most unlikely of subjects, the construction site of a large wooden building, and creates an image of exceptional quality and importance. Perhaps Harris felt that working on a small scale he could be more daring than in a canvas, but here he made a number of decisions that transformed a prosaic source into a vital and original composition. First is his use of colour – the deep blue and ochres that he used on the planks of the building, which we immediately realize are not the actual colours but have been selected for their visual power. While the arrangement of the colours across the surface might be read simply as shadow and light, Harris was keenly aware of the abstract visual pattern that he was creating. We are initially struck not by a sense of light and shade but simply by the vivid contrast of the colours. The composition is reduced to very basic elements; there is no landscape to speak of, and the sky is a simple pattern of broad white paint strokes. If one were to describe the work – a blank sky, a building ochre and deep blue and a few people (one a woman with a dark red shawl) – the listener could hardly be blamed for dismissing the work as uninteresting. However, the magic of this painting is that these ingredients combine visually to create a result that transcends any description. The image is electric with palpable energy and indelibly depicts the subject. One cannot imagine any element changing, as every part of the work has a deliberate and exciting tension. While the word "masterpiece" is used too often, a cursory glance at the exhibition and publication history of this work suggests that it has long been recognized as a painting of primary importance in Harris's career.


Estimate:
$350,000 ~ $500,000 CAD
Sold for:
$380,250 CAD (including Buyer's Premium)

All prices are in Canadian Dollars.
Although great care has been taken to ensure the accuracy of the information posted, errors and omissions may occur. All bids are subject to our Terms and Conditions of Business.