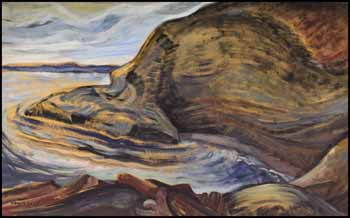 Lot # 164
Spring 2013 - 2nd Session Live auction

Emily Carr
BCSFA CGP 1871 - 1945 Canadian

Strait of Juan de Fuca, BC
oil on paper on board circa 1934
signed and on verso titled on the Watson Galleries label
22 1/4 x 35 3/4 in 56.5 x 90.8cm

Provenance:
Watson Art Galleries, Montreal
By descent to a Private Collection, Montreal
Sold sale of Fine Canadian Art, Heffel Fine Art Auction House, November 24, 2005, lot 139
Private Collection, USA

Literature:
Paula Blanchard, The Life of Emily Carr, 1987, a similar circa 1936 oil on paper entitled Strait of Juan de Fuca in the McMichael Canadian Art Collection, reproduced, unpaginated plate
Emily Carr, Hundreds and Thousands, The Journals of Emily Carr, 2006, pages 54 and 55

In the 1930s Emily Carr began to use oil on paper, precipitating a new freedom in her work. She mixed her oil paint with turpentine – and even gasoline – to achieve a variety of effects, from the thinness of a watercolour wash to a greater density approaching undiluted oil. The medium's fluidity allowed her to use sweeping brush-strokes, which expressed the sense she had of the movement of a divine energy through nature, whether forest or shore. In 1931, she wrote, "This evening I aired the dogs and took tea on the beach.....all the world was sweet, peaceful, lovely. Why don't I have a try at painting the rocks and cliffs and sea? God is in them all. Now I know that is all that matters." In Strait of Juan de Fuca, BC, there is a sculptural strength in the looming rocky headland, yet through the use of transparent oil washes there is also a quality of dematerialization like that of the surrounding water and atmosphere. In this transcendent seascape, Carr shows her mastery of the medium, permeating form with glowing light and energy.


Estimate:
$100,000 ~ $150,000 CAD
Sold for:
$111,150 CAD (including Buyer's Premium)

All prices are in Canadian Dollars.
Although great care has been taken to ensure the accuracy of the information posted, errors and omissions may occur. All bids are subject to our Terms and Conditions of Business.