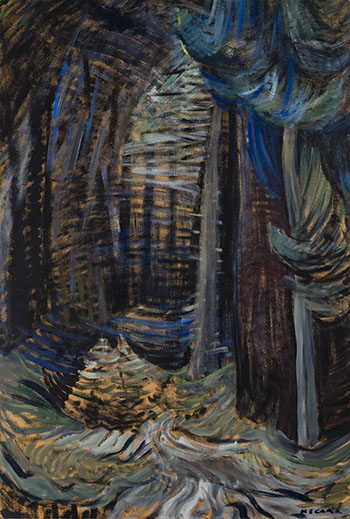 Lot # 163
Spring 2013 - 2nd Session Live auction

Emily Carr
BCSFA CGP 1871 - 1945 Canadian

British Columbia Forest
oil on paper on board circa 1935
signed
33 1/4 x 22 1/2 in 84.4 x 57.1cm

Provenance:
Mrs. V. LaFontaine, Montreal
G. Blair Laing, Toronto
Private Collection, Toronto
Sold sale of Fine Canadian Art, Heffel Fine Art Auction House, November 24, 2005, lot 138
Private Collection, USA

Literature:
Doris Shadbolt, The Art of Emily Carr, 1979, a similar circa 1937 – 1940 oil on canvas entitled Sombreness Sunlit, in the collection of The Province of British Columbia, Provincial Archives, reproduced page 131
Charles C. Hill, Johanne Lamoureux, Ian M. Thom et al, Emily Carr, New Perspectives on a Canadian Icon, National Gallery of Canada, 2006, a similar circa 1938 canvas entitled Forest, in the collection of Victoria University at the University of Toronto, reproduced page 232
Emily Carr, Hundreds and Thousands, The Journals of Emily Carr, 2006, pages 263 and 273

Before 1933, Emily Carr's sketching trips to the woods around Victoria to sites such as Metchosin, Sooke, Cedar Hill and Goldstream Flats had been based in cabins, summer cottages or even a derelict hunting lodge belonging to others. But in 1933 Carr bought a caravan, which she named the Elephant, that she outfitted to suit her needs - with a bed, shelving, boxes for her dogs and monkey, oil stove and a canvas tarp for a cooking shelter. She could then have it towed to various woods and seashore locations around Victoria as a base for her sketching excursions. Not only did this give her more freedom of choice, but more of a sense of immersion in her beloved woods - she wrote of the sensual joys of the sound of rain on the roof and wind in the trees and the sweet scents of cedar and pine. Her favourite seasons to paint in the woods were spring and fall as, in the summer, she found the forest "too leafy" and invaded by people. In the spring of 1935 she was in the Elephant at Albert Head. In September of that same year, she went into the forest again with the Elephant, and experienced warm days and cool nights, with mornings dewy and sometimes foggy. Setting out into the woods to sketch, she would choose a spot, set up her campstool and paints, and wait until form, light and the energy of the woods coalesced into an inspired composition in her vision. Using an innovative medium of oil thinned with turpentine or gasoline, she would capture what she saw and felt with great sweeping brush-strokes. Carr built a vocabulary of form to define the elements of her paintings - such as curves, rings, or spirals - and in British Columbia Forest she used a distinctive horizontal web of whitish strokes in the upper part of the trees, as well as short strokes in the centre right tree trunk, likely indicating broken-off lower branches. This distinctive treatment can be seen in a number of other 1930s works in public collections, such the canvas Sombreness Sunlit, in the collection of The Province of British Columbia, Provincial Archives, and the canvas Dancing Sunlit, in the McMichael Canadian Collection. The foreground in this work creates, with its strong but light strokes of paint, the sensation that Carr perceived as a rushing sea of undergrowth. In her journals, Carr strove to express her overwhelming feeling of being a part of the pulse of life in the forest, writing, "There is a robust grandeur, loud-voiced, springing richly from earth untilled, unpampered, bursting forth...an awful force greater in its stillness than the crashing, pounding sea...It is life itself, strong, bursting life."
In her striving to capture the essence of energy that she felt pervaded everything she saw in the forest, Carr was dissolving form through her expressionist brush-strokes. Carr had been in contact with Group of Seven painter Lawren Harris, who by this time had turned from landscape to abstraction, and he was encouraging her to do the same. Both artists were highly spiritual, Harris following the tenets of Theosophy while Carr was Christian, and ideas were exchanged about this as well. However, Carr discovered that she was not comfortable with Theosophy and that, for her, abstraction was not the final liberation. It was nature that sustained her spiritually and artistically as nothing else could, so in the end she would never relinquish it.


Estimate:
$150,000 ~ $250,000 CAD
Sold for:
$198,900 CAD (including Buyer's Premium)

All prices are in Canadian Dollars.
Although great care has been taken to ensure the accuracy of the information posted, errors and omissions may occur. All bids are subject to our Terms and Conditions of Business.