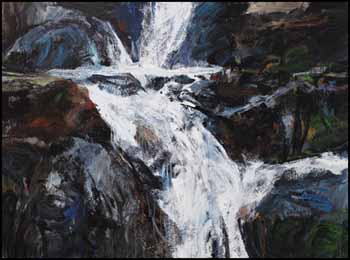 Lot # 048
Spring 2012 - 1st Session Live auction

Gordon Appelbe Smith
BCSFA CGP CPE OC RCA 1919 - Canadian

Houlgate Creek
acrylic on canvas circa 1990
signed and on verso titled
50 x 67 in 127 x 170.2cm

Provenance:
Private Collection, Vancouver

Literature:
Letter from Jack Shadbolt to Gordon Smith, dated July 10, 1989, collection of Gordon Smith
Ian M. Thom and Andrew Hunter, Gordon Smith, The Act of Painting, Vancouver Art Gallery, 1997, page 49

Gordon Smith started painting his deep forest works during visits to the Queen Charlotte Islands in 1984, and at that time his approach to painting became more spontaneous and expressionist, a significant change in his oeuvre. This was a dramatic evolution from his Abstract Expressionist paintings of the early 1950s (although in some ways it recalls and builds on this period), his hard-edge abstractions of the 1960s and his horizontal band landscapes of the 1970s and early 1980s. Throughout his career, his style has evolved while moving towards and away from the landscape, but in the end, landscape has been his great love.
Throughout the 1980s he continued to explore coastal forests, visiting Shannon Falls in 1985, the Queen Charlotte Islands again in 1986 and 1987, and in 1989 the Carmanah Valley on Vancouver Island. Ian Thom comments on the work of this time period, "The images are richly evocative, suggesting the spiritual and emotional identification with nature which has haunted all British Columbia landscape painting since the time of Emily Carr." To Carr's passionate and rhythmic expression of a greater force animating all of nature, we add Smith's unique approach to the deep forest. His experience of the force present there is expressed through a visceral physicality of paint – textural, layered, vigorous with rough-hewn forms, the image infused with an awareness of the paint itself – an image abstracted yet with landscape still clearly recognizable.
Smith has a predilection for working in series, such as the Falling Water series that this superb work is from. Working this way allows him to fully express a stream of ideas on a theme, subtle point and counterpoint in delightful variation. After 1984, he switched from using sketches and working from memory to the use of photographs, which contributed to this experimentation and improvisation with variations on a theme. In 1990 he completed his new studio on the North Shore, and the woods and waterways nearby became his subjects, including Houlgate Creek, which flows through upper West Vancouver into Capilano Canyon Park and ultimately into the powerful Capilano River.
In Houlgate Creek, Smith shows a rich colour palette in which deeper tones from earth and rock are illuminated by brilliant flashes of bright green, blue and orange. The waterfall dominates the work, its first layer tumbling into a pool, then gushing down the cliff face, being joined by two small streams. Smith infuses its foaming whiteness with pastel tones of mauve, pale blue, pink and cream-orange.
Not only does Smith layer and texture his paint, he also varies its viscosity, allowing thin washes to run down the bottom half of the canvas, echoing the element of water, but also showing his awareness of the surface and the qualities of the paint itself. Smith made clear the importance of the properties of the paint in a comment that he intended "welding the image with paint, so the paint becomes the image and the image becomes the paint."
With its powerful use of paint and the impact of a stunning forest composition enlivened with a cascade of water, Houlgate Creek is an outstanding canvas from a highly significant time in Smith's oeuvre. The forest works of the late 1980s and early 1990s are seen as important for his explorations of looseness of form, expressive brushwork and a rich, deep colour palette which resulted in his finding, as Jack Shadbolt suggested, his "true lyric territory".
For over 60 years, Smith has been a central member of Vancouver's art community. His courage to innovate, the vitality and beauty of his work and dedication to his subject have made him one of the most prominent landscape painters in Canada. Smith has produced some of his finest works from 1984 to the present, of which this is an important example.


Estimate:
$60,000 ~ $80,000 CAD
Sold for:
$64,350 CAD (including Buyer's Premium)

All prices are in Canadian Dollars.
Although great care has been taken to ensure the accuracy of the information posted, errors and omissions may occur. All bids are subject to our Terms and Conditions of Business.