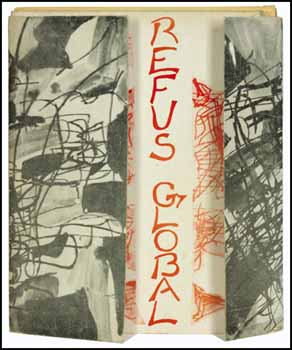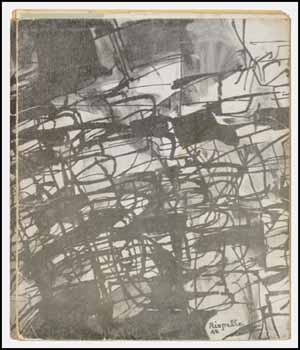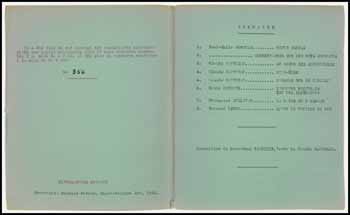 Lot # 044
Spring 2012 - 1st Session Live auction

Paul-Émile Borduas
AUTO CAS QMG RCA 1905 - 1960 Canadian

Refus global
book 1948
editioned 356/400
8 5/8 x 7 1/4 in 21.9 x 18.4cm

Provenance:
A gift from the Artist to his wife's parents
By descent to the present Private Collection, Quebec

Literature:
Roald Nasgaard, Abstract Painting in Canada, Art Gallery of Nova Scotia, 2007, page 83

Refus global was a historic document by Montreal-based Automatist artists that was aesthetically, socially and politically revolutionary. After its publication on August 9, 1948, it was considered so provocative – being, as Roald Nasgaard wrote, "a passionate attack on all the repressive social, political, historical and religious forces that had shaped the Quebecois people" – that its instigator, Paul-Émile Borduas, was fired from his teaching position at the École du meuble in Montreal. The fifteen other signatories were: Magdeleine Arbour, Marcel Barbeau, Bruno Cormier, Claude Gauvreau, Pierre Gauvreau, Muriel Guilbault, Marcelle Ferron, Fernand Leduc, Thérèse Leduc, Jean-Paul Mousseau, Maurice Perron, Louise Renaud, Françoise Riopelle, Jean-Paul Riopelle and Françoise Sullivan. In addition to the main manifesto and two other texts on language and Surrealism by Borduas, this book contains three short dramatic pieces by Claude Gauvreau, Françoise Sullivan's essay on dance, Bruno Cormier's piece on pictorial art, a poetic declaration by Fernand Leduc and photographs by Maurice Perron of works of art, actors and dancers. The text was mimeographed in the Gauvreau apartment, with cover art by Jean-Paul Riopelle and Claude Gauvreau.


Estimate:
$8,000 ~ $10,000 CAD
Sold for:
$8,190 CAD (including Buyer's Premium)

All prices are in Canadian Dollars.
Although great care has been taken to ensure the accuracy of the information posted, errors and omissions may occur. All bids are subject to our Terms and Conditions of Business.