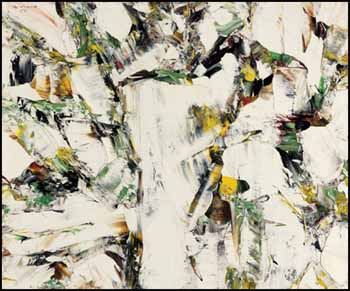 Lot # 027
Spring 2012 - 1st Session Live auction

Paul-Émile Borduas
AUTO CAS QMG RCA 1905 - 1960 Canadian

Jeunesse
oil on canvas
signed and dated 1956
20 x 24 in 50.8 x 61cm

Provenance:
Gisèle and Gérard Lortie, Montreal, July 1956
Galerie Agnès Lefort, Montreal
An Important Private Estate, Montreal

Literature:
Robert Ayre, "McGill and Université de Montreal Students Sponsor Brilliant Show of Contemporary Art", The Montreal Star, January 19, 1957, page 24
François-Marc Gagnon, Paul-Émile Borduas (1905 - 1960), Biographie critique et analyse de l'oeuvre, 1978, listed pages 407, 408 and 496
François-Marc Gagnon, Paul-Émile Borduas, The Montreal Museum of Fine Arts, 1988, La grimpée (The Climb) reproduced page 378
This work is included in François-Marc Gagnon's online catalogue raisonné on the artist's work at www.borduas.concordia.ca/en/about/index.php

Exhibited:
Musée des beaux-arts de Montréal, 35 peintres dans l'actualité, organised by the students of the University of Montreal and McGill University, January 19 - February 3, 1957

The provenance of this painting is worth noting. Jeunesse was acquired in July 1956 at Paul-Émile Borduas's Paris studio on rue Rousselet by his dear friends and supporters Gisèle and Gérard Lortie. Gérard was an industrialist in the leather business and Gisèle was the daughter of Victor Morin, a well-known notary and historian. Both had a remarkable eye for Borduas paintings and, generally speaking, for the art of their day. I recall that in their living room they had two big Claude Tousignant paintings – Accélérateur chromatique works – in bright, fluorescent colours. To give one more example of their discerning eye, I should mention that in the next year Lortie would acquire L'étoile noire, 1957, considered to be one of Borduas's masterpieces, now in the collection of The Montreal Museum of Fine Arts.
Jeunesse was one of the six paintings acquired in July 1956, along with La grimpée, 1956, now in the collection of the National Gallery of Canada, and 3+3+4, 1956, now in the collection of the Musée d'art contemporain de Montréal. When I published my book on Borduas in 1978, I did not know the whereabouts of Jeunesse. The only thing I knew about it then was that it was exhibited in a show organized at the beginning of 1957 by the students of the Université de Montréal and of McGill University (future collectors?) held at The Montreal Museum of Fine Arts, along with La grimpée. Now that we have the painting, we know that in between the current collector and the Lorties, the painting was at the Galerie Agnès Lefort – we see her stamp on the back of the canvas – a gallery with which the Lorties were well acquainted.
What was remarkable about the Lorties' deal with Borduas on this occasion was that they acquired paintings from both the white works of Borduas's first months in Paris, like Jeunesse, that prolonged his New York style, and from the first black and white paintings (like Ramage and 3+3+4) typical of his Paris period, along with La grimpée, which could be seen as a painting that made the transition between both styles. Borduas was then quickly moving towards what would be his landmark style in Paris – his famous black and white paintings.
In Jeunesse we are not yet there, but with all these apertures in the white that show some dark recesses and the slashes of the spatula with areas highlighted in green and ochre, we can say that the next step was not far away. La grimpée went in the same direction, a little further maybe, showing more contrast between the black and the red.
In Jeunesse, the suggestion of movement through the handling of paint is quite noticeable. The Montreal critic Robert Ayre was very conscious of this, and in his review of the 1957 exhibition at The Montreal Museum of Fine Arts wrote, "The life is in the manipulation of white paint." It was also in the speed of improvisation – here a risky stroke, there a well thought out encounter between two movements. The painting is full of life; perhaps that is the reason why Borduas titled it Jeunesse (Youth). Or was it because of the springtime spots of green that we see here and there? But at the same time, one feels the control, the mastery of Borduas at this stage of his career. Here, everything is balanced and harmonious. Not a speck of paint could be moved somewhere else without destroying the effect, and not a colour is out of place – a very satisfying painting indeed.
We thank François-Marc Gagnon of the Gail and Stephen A. Jarislowsky Institute of Studies in Canadian Art, Concordia University, for contributing the above essay.


Estimate:
$150,000 ~ $200,000 CAD
Sold for:
$380,250 CAD (including Buyer's Premium)

All prices are in Canadian Dollars.
Although great care has been taken to ensure the accuracy of the information posted, errors and omissions may occur. All bids are subject to our Terms and Conditions of Business.