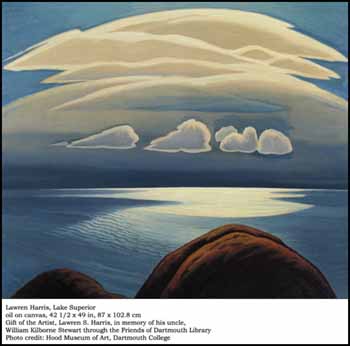 Lot # 120
Spring 2012 - 2nd Session Live auction

Lawren Stewart Harris
ALC BCSFA CGP FCA G7 OSA RPS TPG 1885 - 1970 Canadian

Lake Superior
oil on board circa 1928
signed and on verso signed and titled and titled Lake Superior Sketches on the artist's label
12 x 15 in 30.5 x 38.1cm

Provenance:
Acquired directly from the Artist, with the assistance of Ira Dilworth, by a Private Montreal Collector, circa 1948
By descent to the present Private Collection, England, 1978

Literature:
Doris Mills, L.S. Harris Inventory, 1936, listed as Group 4 (4/9), Lake Superior Sketches, location noted as the Studio Building, a drawing of this work illustrated by Hans Jensen reproduced page 4
Hilliard T. Goldfarb, editor, Expanding Horizons, Painting and Photography of American and Canadian Landscape 1860 - 1918, The Montreal Museum of Fine Arts, 2009, the canvas entitled Lake Superior, in the collection of the Hood Museum of Art, Dartmouth College, reproduced page 299

Exhibited:
The Montreal Museum of Fine Arts, Expanding Horizons, Painting and Photography of American and Canadian Landscape 1860 - 1918, June 18 - September 27, 2009, traveling in 2010 to the Vancouver Art Gallery, the related canvas entitled Lake Superior, in the collection of the Hood Museum of Art, Dartmouth College, Hanover, New Hampshire, catalogue #188

On verso inscribed in graphite with the Doris Mills Inventory #4/9 and "Sketch for large painting hanging in the Library of Dartmouth College, Dartmouth, N.H. / Selected for Mary Ferguson by Lawren Harris and Ira Dilworth"
Lawren Harris's North Shore of Lake Superior works epitomize his painting more than those of any other period, and this one is a masterwork in every way. Personally selected by Harris for purchase by a friend of one of his close friends, it is also the subject of a later museum canvas. This work, from the later period of Harris's trips to Lake Superior which generated some of his finest works from this landscape, is a powerful and moving example of the artist at his absolute best.
At Lake Superior, the stark landscape of rock and water, the sharp light that cast long shadows, and the vast, unfettered distances provided Harris with visual breathing space. This brought a new expansiveness to his work, as did the intellectual breathing space that his relative isolation there gave him. This allowed him, as a seeker of enlightenment, to connect with the land's essential spirit. There, amid the open vistas and unending skies, Harris's works were pared to their essentials, and the spirit of the land was able to sing out loudly. Harris's even brushwork along with his delicate handling of colour gradation and pattern are very refined in these works. Mathematical, orderly, neat and precise, the Lake Superior works are like perfectly cut jewels, wherein something already precious has been shaped to expose its inherent structural beauty.
Harris sometimes used his best plein air sketches as subjects for large studio canvases. This work is such an example, being the source for the canvas of the same name, which is in the collection of the Hood Museum of Art at Dartmouth College, New Hampshire, where Harris was an unofficial artist-in-residence from 1934 to 1938. During this time, the works remaining in Harris's Toronto studio were listed in an inventory by his friend Doris Mills, with the assistance of a resident of the Studio Building, Hans Jensen, who produced drawings of some of the works. The 4/9 number on the verso of Lake Superior refers to this 1936 listing. It also tells us that the work remained at the Studio Building and that Harris did not have access to it until his return to Canada. Upon collection of the sketch, Harris elected to use it as the primary source for a work he was preparing for the Dartmouth College Library, and he mentions it in a letter in 1951, noting that he still had work to do on the Dartmouth canvas. Harris was, by this time, primarily painting in an abstract manner, evident in the resulting canvas, which leans towards the stylization of his later abstracts.
Lake Superior was acquired directly from the artist, as the inscription on the back notes, on his advice as well as that of Ira Dilworth. Dilworth was a friend of the original owner as well as Harris's long-time friend, sometime advisor, hiking companion and partner in the Emily Carr Trust. Dilworth taught at the University of British Columbia and worked as a director of CBC's British Columbia radio programs, and later of national programming. A critical figure in the development of the arts in British Columbia, Dilworth founded the CBC Vancouver Orchestra and was the first President of the Vancouver Community Arts Council. He had a superior eye for art, having selected Carr's masterpiece Quiet for his own collection (sold by Heffel in May of 2004). His consultation over the selection of this superb painting with Harris is of singular significance.
In addition to having Dilworth's and Harris's seal of approval, Lake Superior is fortunate to be presented still in its original frame produced by the master framer Alfred J. Boughton, who had a studio in Toronto. This clean-lined scooped design, painted a creamy white and edged with a simple band of gilt, is the perfect complement to this Group period Lake Superior masterpiece.


Estimate:
$400,000 ~ $600,000 CAD
Sold for:
$526,500 CAD (including Buyer's Premium)

All prices are in Canadian Dollars.
Although great care has been taken to ensure the accuracy of the information posted, errors and omissions may occur. All bids are subject to our Terms and Conditions of Business.