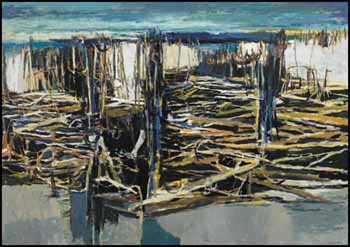 Lot # 047
Spring 2012 - 1st Session Live auction

Gordon Appelbe Smith
BCSFA CGP CPE OC RCA 1919 - 2020 Canadian

Wreck Beach
oil on canvas 1951
signed
34 x 48 in 86.3 x 121.9cm

Provenance:
Acquired directly from the Artist through the Women's Auxiliary exhibition by Jean Martin, Vancouver, 1951
By descent to the present Private Collection, Washington

Exhibited:
Vancouver Art Gallery, Do You Own a Canadian Painting? Fourth Annual Sale and Exhibition of Contemporary Paintings, organized by the Women's Auxiliary, 1951

Mrs. Jean Martin, who helped establish the Vancouver Art Gallery library and then served as the librarian for over a decade, would have been very familiar with the initiative of the Women's Auxiliary, which began in 1948. A series of exhibitions, originally titled Do You Own a Canadian Picture? and later Do You Own a Canadian Painting? served as both a fundraising effort and an important opportunity for artists to show and sell their work, at a time when there were few such occasions. Wreck Beach was one of three paintings that Gordon Smith exhibited in the 1951 Women's Auxiliary show, from which it was acquired by Mrs. Martin.
Smith's connections with British Columbia are long and deep; they began in 1940 when on a holiday visit to Vancouver he met his future wife, Marion Fleming. After their marriage in 1941, Smith, who had joined the military in 1939, served overseas and was badly wounded in 1943 during the Italian campaign. Following his lengthy convalescence, the Smiths settled in Vancouver. Smith returned to his education, which had been interrupted by the war, and in 1945 he enrolled at the Vancouver School of Art. Smith, who had worked as a commercial artist at Brigden's in Winnipeg and had taken classes at the Winnipeg School of Art, was an advanced student and graduated from the school in 1946. Shortly after his graduation, he was invited to begin teaching at the Vancouver School of Art. He also began to explore the landscape of the province seriously, both locally and on trips to more remote areas, such as a painting trip he took to Alert Bay in 1947.
Like younger artists of the period, Smith was strongly interested in the exciting developments of Abstract Expressionism, yet he was also deeply drawn to the natural world. In a province that had the enormous legacy of the work of Emily Carr, the problem was how to deal with the landscape in a way that was modern and his own. Smith developed an approach that explored the borders between realism and abstraction, something that has remained an important element of his work to the present day. In a series of paintings begun in 1948, Smith depicted the landscape not far from his home on Balaclava Street, sometimes realistically and sometimes, as in Wreck Beach, moving towards abstraction. A moody, almost elegiac image with a wonderful sense of West Coast light, Wreck Beach depicts the natural debris of the beach with enough specificity to allow us to see it, but not enough detail for the eye to become distracted. The pattern of the logs on the beach is punctuated by a series of strong verticals, and these, combined with the horizon line and the broad expanse of beach in the foreground, hint at the grids that would emerge in his work over the next two years, such as in Wet Night, 1953, in the collection of the Vancouver Art Gallery.
The tangle of debris seen here is a subject that has continued to fascinate Smith, and tangles have been the subject of a number of recent works. This early painting also reveals other aspects of his work that have been leitmotifs in his career: a deep pleasure in and fascination with the properties of paint; a remarkable sensitivity to the subtleties of colour, particularly earth tones and blues; and a deep respect for nature. Wreck Beach displays a wonderful tension between order and chaos, realism and abstraction, and – more importantly – it shows the emergence of Smith's unique vision as a painter.



All prices are in Canadian Dollars.

Although great care has been taken to ensure the accuracy of the information posted, errors and omissions may occur. All bids are subject to our Terms and Conditions of Business.