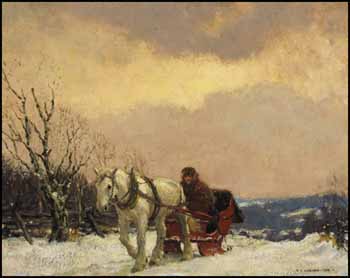 Lot # 149
Spring 2010 - 2nd Session Live auction

Frederick Simpson Coburn
AAM RCA 1871 - 1960 Canadian

The Red Carriole
oil on canvas
signed and dated 1919
18 1/2 x 23 in 47 x 58.4cm

Provenance:
By descent from the Estate of Robert Buchanan Thornton's parents, Mr. and Mrs. (Grace Grier) David Stoddart Thornton, December 1960, to the Estate of Theodosia Dawes Bond Thornton, Montreal

Literature:
Evelyn Lloyd Coburn, F.S. Coburn: Beyond the Landscape, 1996, a similar 1919 oil panel entitled March Morning, The Red Carriole #2, in the collection of the Montreal Museum of Fine Arts, reproduced page 81, and a similar 1946 oil entitled On the Melbourne Road, in the Frederick Simpson Coburn Collection, Sherbrooke, reproduced front cover and page 113
Theodosia Dawes Bond Thornton, Personal Art Collection Catalogue, reproduced, unpaginated, catalogue #R57

Exhibited:
Art Association of Montreal, 36th Annual Spring Exhibition, 1919

After a sojourn in Europe that lasted until 1914, principally in Antwerp, Belgium, Frederick Coburn returned to Canada. Coburn had enjoyed the sophistication of the European milieu, lamenting the limited art scene in Canada, but soon immersed himself in Quebec's unique culture. He built a studio in Upper Melbourne, Quebec, painting habitant life in the rural landscape of his home township using the fine craftsmanship developed in Europe, but with a fresh eye for Canadian light. His recurrent themes, often horse-drawn sleighs in winter, recorded a life before mechanization. He painted them with endless variations, with delicately rendered skies, under the light of cloudy or sunny days, passing through forests or open roads with vistas. Within this enduring theme, the image of a white horse and red carriole was a recurrent favourite. In this work, the colour contrast between the red sleigh, the blue hills behind and soft pastel tones in the sky and snow is exquisite. An oil sketch entitled March Morning, The Red Carriole #2, in the collection of the Montreal Museum of Fine Arts, bears such a strong resemblance to this superb painting that it may well be the study for it.


Estimate:
$20,000 ~ $30,000 CAD
Sold for:
$26,325 CAD (including Buyer's Premium)

All prices are in Canadian Dollars.
Although great care has been taken to ensure the accuracy of the information posted, errors and omissions may occur. All bids are subject to our Terms and Conditions of Business.