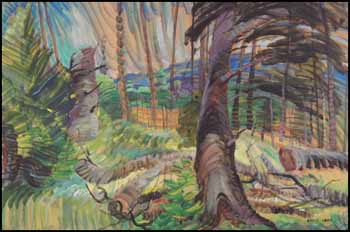 Lot # 161
Spring 2009 - 2nd Session Live auction

Emily Carr
BCSFA CGP 1871 - 1945 Canadian

A Forest Clearing
oil on paper on board circa 1935
signed
23 x 34 5/8 in 58.4 x 87.9cm

Provenance:
Acquired at a reception for Emily Carr at Lawren Harris's home, circa 1941 - 1942
By descent to the present Private Collection, Vancouver

Literature:
Emily Carr, Hundreds and Thousands: The Journals of Emily Carr, 2006, page 187
Jay Stewart, Peter Macnair et al, Emily Carr: New Perspectives on a Canadian Icon, National Gallery of Canada, 2006, essay by Andrew Hunter, page 158

From 1933 on, Emily Carr took her subjects primarily from the countryside surrounding Victoria - in Colwood, Goldstream, Metchosin, Langford and the area of Craigflower Road. She moved away from her use of native images, writing in a 1938 letter to Eric Brown of the National Gallery that "I confess forest & wood spaces & sky are more engrossing to me these past few years. I feel they are more completely my own expression & interpretation." The landscape of southern Vancouver Island was a terrain altered by man – subjected to logging and farming. Rather than the dense, overwhelming, almost claustrophobic nature of her deep forest old growth paintings, this landscape possessed openness and light. Here was an equally interesting and changing world of second growth trees with forest floors full of salal and fern, and open spaces with grasses and blackberry vine. Carr sometimes immersed herself in it by camping in her caravan, the Elephant, taking part in all the ephemeral moods of the elements.
The process of change in the landscape of this area is evident in A Forest Clearing, which includes a large tree which has been felled, and the screen of thinned-out trees through which we view a field and hill. Space and sky was emerging in her work, and would increasingly become a strong focus for her. Also emerging was an expression of the rhythmic energy which she perceived to be present in all facets of nature through the use of bold brush-strokes. Carr sought to communicate her sense of the life force in nature always rising up in the patterns of growth, as well as the intangible, such as the movement of air through the trees and over the land, carrying the green scent of the evergreens. Carr wrote, "I want to express growing, not stopping, being still on the move." Not only was Carr expressing this energy, but she was also reflecting on the concept of unity of movement throughout each painting. At first she had only sensed it in the woods, then her conscious awareness seized upon it and made it manifest in her compositions. In A Forest Clearing, Carr balances both vertical and horizontal movement, and draws our eye from the joyous explosion of energy in the undergrowth on the left and strong central evergreen in the foreground through the tall spindly trunks on the edge of the clearing into the rolling hill and light-filled sky beyond.
Facilitating this bold new expression was her use of oil on paper, thinned with mediums such as gasoline, a fluid painterly approach wherein form lost its defining edge and some of its solid substance. In A Forest Clearing, Carr strikes a fine balance between solid form - particularly in the foreground living tree, the tree stump and the hill - versus a deconstructed rolling vegetation, forest floor and sky streaming with light and colour. It is a jubilant chaos of elements which Carr skillfully builds into a complex, interesting and thoroughly satisfying image.
Whether in old growth deep woods or in second growth forests closer to Victoria, Carr's spiritual journey through her deep connection with nature continued to evolve and manifest itself in her work. Her work moved from the mystical solemnity present in her enfolded deep forest works into a lighter, more joyous expression, as seen in this superbly uplifting painting. Carr found her experience of the divine directly in nature, in its inspirational, regenerative presence, and, like a shaman of the woods wielding her sacred brushes, communicated its power to us through her paintings.
Carr was influenced by Lawren Harris, whom she had met on a 1927 trip to Toronto, and whose work and intellect she deeply admired. She corresponded frequently with Harris - his encouragement and support of her work was significant. It was Harris who advised Carr to create the Emily Carr Trust for the future protection of her paintings, and who, as trustee, worked to preserve her legacy. Therefore, it is interesting to note the acquisition of this work from a reception at Harris's Vancouver home and the unbroken line of the provenance of this magnificent work, which has remained in the same family since it was acquired directly from Carr at this reception in the early 1940s.


Estimate:
$125,000 ~ $175,000 CAD
Sold for:
$187,200 CAD (including Buyer's Premium)

All prices are in Canadian Dollars.
Although great care has been taken to ensure the accuracy of the information posted, errors and omissions may occur. All bids are subject to our Terms and Conditions of Business.