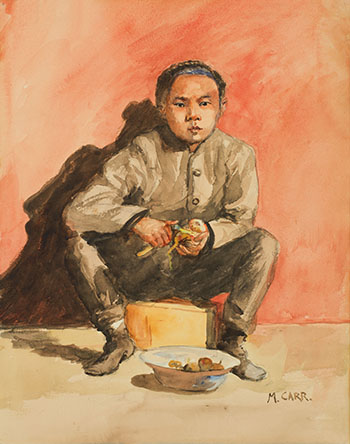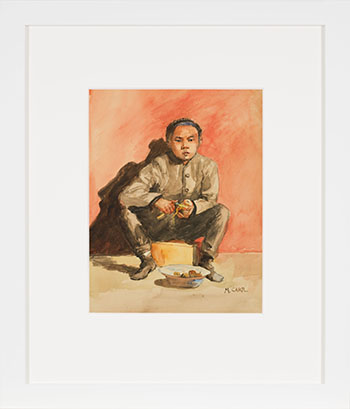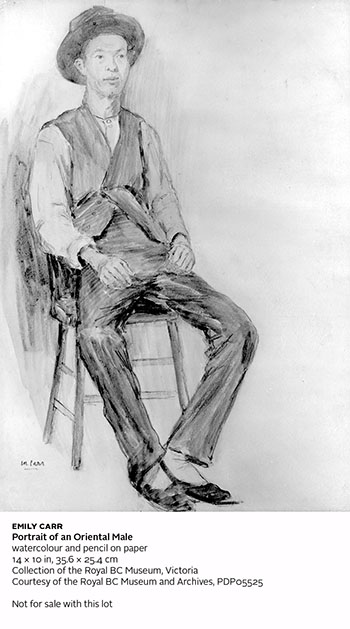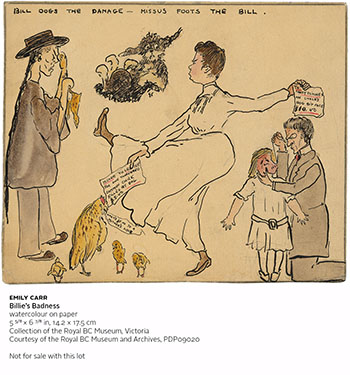 Lot # 130
Canadian, Impressionist & Modern Art Live auction

Emily Carr
BCSFA CGP 1871 - 1945 Canadian

Chinese Boy
watercolour on paper 1906 1910
signed and on verso titled on the gallery label
14 x 11 in 35.6 x 27.9cm

Provenance:
Keenlyside Gallery, Vancouver
Private Collection, Toronto
Sold sale of Important Canadian Art, Sotheby's Canada, May 19, 1993, lot 187
Private Collection, Montreal

Literature:
Emily Carr, The Book of Small, 1966, pages 16 and 104 – 106
Anthony B. Chan, Gold Mountain, 1983, pages 35 - 44
Paul Wood editor, Untold Stories of British Columbia, 2003, essay by Gerta Moray, "The Invisibility of Lee Nan, Chinese Artist in British Columbia"
Gerta Moray, Unsettling Encounters: First Nations Imagery in the Art of Emily Carr, 2006, portraits of First Nations people reproduced pages 85, 150 - 153 and 159

This sympathetic and psychologically fine-tuned portrait by Emily Carr is an example of the paintings she made during her Vancouver period of 1906 to 1910, on her return from England. At the St. Ives artists' colony there, she had practised plein air painting of the local landscape and the fisher folk, and she now turned a naturalist lens on the multicultural variety of Vancouver's population. She began her project to document Indigenous villages and totem poles, and she painted portraits of members of the Salish community.

Less well-known is that she was also interested in Vancouver's Chinese community. During Carr's childhood most middle-class families employed Chinese servants since "white" domestic help was scarce. Chinese immigration to British Columbia had begun after the 1849 California gold rush that drew an influx of population to the Northwest Coast, including Carr's own family – her father had made his wealth as a mining outfitter in San Francisco before settling in Victoria, which at the time had Canada's largest Chinatown, a few blocks to the east of his import warehouse on Wharf Street. The Chinese community included wealthy entrepreneurs who could bring their families, but most were single men and boys recruited to work in mines, on the railroad and in service industries. Coming from an ancient civilization of their own, they only assimilated to the degree necessary for their goal, which typically was to send money home and finally return to China. Carr describes this situation in her story "Servants" in her memoir of her childhood, The Book of Small.

Carr's painting shows a young boy dressed in a Chinese collarless jacket with black-trimmed sleeves, his queue (braid) coiled over his head. He is posed confrontationally as he pauses in the task of peeling an apple. He looks ahead but does not meet our eyes, wrapped in his thoughts and in a world of his own. No doubt he reminded Carr of her family's 12-year-old Chinese houseboy, Bong, who in her story of her childhood "The Cow Yard" sings to the family's cow to dispel his homesickness. Carr places herself in the tale as "Small," who also loves to sing to the cow, but out of happiness. When her sisters call her away and scold her for making such a noise, Small remains, observing, "Bong, sitting on his three-legged stool, sang to the cow – a Chinese song in falsetto voice. The cow took her nose out of the mash bucket, threw back her great ears, and listened. She pulled a tuft of sweet hay from her rack, and stood quite still, chewing softly, her ears right about, so that she might not miss one bit of Bong's song." Both Carr's watercolour and her story manifest her intense attention to individuals (and also to animals) and their specific predicaments, an empathy that she traces back to her childhood experiences.

Carr early on rejected the snobbery, hypocrisy and racism she found in the nouveau riche circles of Victoria and Vancouver. She expressed a down-to-earth sympathy for socially marginalized groups and often also satirized her own less-than-dignified predicament (see illustration: Billie's Badness). She was exceptionally open to others, respecting their humanity. This attitude is reflected in Chinese Boy, just as it is in her paintings of First Nations sitters at the time. She presents her subjects not primarily as examples of ethnographic interest but as individuals with an inner life, and she hints at their agency and autonomous worlds.

Carr was consistent in her outgoing openness, and in the 1930s she developed a friendship with a young Chinese artist in Victoria. Lee Nam came from Guangdong and painted foliage and birds in the Lingnan style. Carr admired his work and gave him a show in the short-lived Peoples' Gallery that she operated in her apartment house. Their contact was fruitful in encouraging her transition from the dark, heavy oil paintings of forests to the freedom of her airily brushed oil on paper works of the 1930s. That later freedom is appropriately prefigured in the freedom from the prejudices of her time that enabled her to create this remarkable and intense portrait.

We thank Gerta Moray, author of Unsettling Encounters: First Nations Imagery in the Art of Emily Carr, for contributing the above essay.


Estimate:
$100,000 ~ $150,000 CAD
Sold for:
$157,250 CAD (including Buyer's Premium)

All prices are in Canadian Dollars.
Although great care has been taken to ensure the accuracy of the information posted, errors and omissions may occur. All bids are subject to our Terms and Conditions of Business.