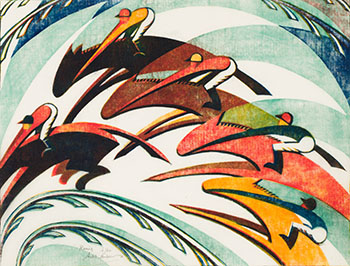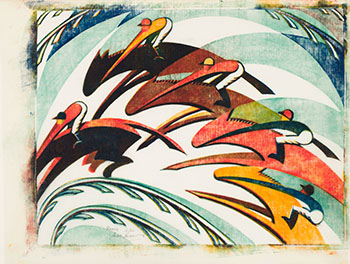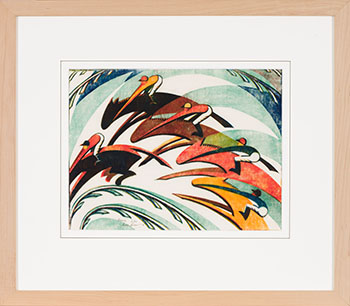 Lot # 102
Canadian, Impressionist & Modern Art Live auction

Sybil Andrews
CPE 1898 - 1992 Canadian

Racing
linocut in 4 colours 1934
signed, titled and editioned 16/60
10 1/4 x 13 1/2 in 26 x 34.3cm

Provenance:
DeVooght Gallery, Vancouver, 1978
Masters Gallery Ltd., Calgary
Private Collection, Calgary
By descent to the present Private Collection, British Columbia

Literature:
Peter White, Sybil Andrews, Glenbow Museum, 1982, reproduced front cover and page 57
Lora S. Urbanelli, The Grosvenor School: British Linocuts Between the Wars, Museum of Art, Rhode Island School of Design, 1988, reproduced page 44
Stephen Coppel, Linocuts of the Machine Age, 1995, reproduced page 115, catalogue #SA 32
Clifford S. Ackley, editor, Rhythms of Modern Life: British Prints 1914 - 1939, Museum of Fine Arts, Boston, 2008, reproduced page 127
Hana Leaper, Sybil Andrews Linocuts: A Complete Catalogue, Osborne Samuel Gallery, 2015, reproduced page 79

Exhibited:
Glenbow Museum, Calgary, Sybil Andrews, 1982, same image, catalogue #32

Sybil Andrews was born in Bury St. Edmunds, England, and in 1922, went to London to study art at the Heatherley School of Fine Art. Three years later, at the Grosvenor School of Modern Art, she met Claude Flight, who taught her to print using linoleum blocks. Andrews produced an extraordinary body of work, with themes that encompassed the dynamism of the modern age through her depiction of people, animals and machines in motion. Sport was a subject that fascinated Andrews and the Grosvenor School artists, and it was an ideal vehicle for Andrews to convey her modernist aesthetic. In this remarkable print, Andrews expressed the experience of speed that fascinated the modern world in the 1930s. Its importance is reflected in the fact that this work was chosen for the front cover of Peter White's 1982 catalogue raisonné of her linocuts, produced by the Glenbow Museum. Andrews is recognized internationally for her linocuts, and Racing is one of her most sought-after prints. An impression of Racing is in the collection of the Museum of Modern Art, New York.

This is a fine early impression on buff oriental laid tissue. This work has full margins and strong, bold colours.


Estimate:
$25,000 ~ $35,000 CAD
Sold for:
$67,250 CAD (including Buyer's Premium)

All prices are in Canadian Dollars.
Although great care has been taken to ensure the accuracy of the information posted, errors and omissions may occur. All bids are subject to our Terms and Conditions of Business.