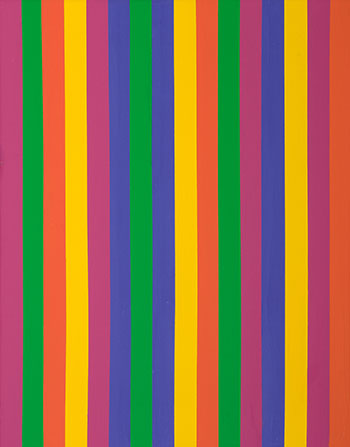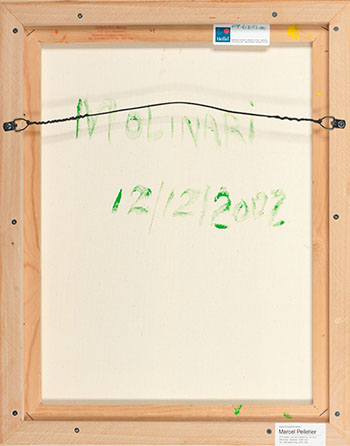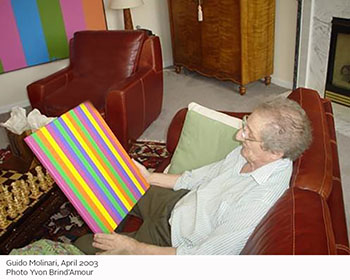 Lot # 003
Post-War & Contemporary Art Live auction

Guido Molinari
AANFM LP QMG RCA SAPQ 1933 - 2004 Canadian

Sans titre
acrylic on canvas
on verso signed and dated 12/12/2002
20 x 15 3/4 in 50.8 x 40cm

Provenance:
A gift from the Artist to a Private Collection, Montreal
Galerie Éric Devlin, Montreal
Private Collection, Montreal

Literature:
Pierre Théberge, Guido Molinari: Écrits sur l'art, National Gallery of Canada, 1976, pages 86 and 87
Pierre Théberge, Guido Molinari, National Gallery of Canada, 1976, pages 45 and 46

Sans titre is a stand-alone work in Guido Molinari's well-known Stripe Paintings series. Molinari devoted almost 10 years to a series of paintings comprised of colour-saturated vertical stripes of equal width spread out across flattened picture planes. The heart of this "classical" period took place in the 1960s. This series of works catapulted the young Molinari onto the international stage. After his inclusion in The Responsive Eye at the Museum of Modern Art in 1965 (where he presented the stripe painting Mutation vert-rouge), Molinari represented Canada at the 34th Venice Biennale in 1968. The nine exhibited colourful stripe paintings garnered him a great deal of praise — including a prestigious David E. Bright Foundation Prize.

These international acknowledgments and outstanding achievements marked a high point in the production of Molinari's stripes. At the time, the artist was only 35 years old, one of the youngest figures to ever represent Canada at the biennale. Some 35 years later, Molinari briefly revisited this classical period. Sans titre is one of the rare examples of this extremely short-lived revival. Only one other stripe painting from this period has been documented, a 2002 painting currently housed in the Guido Molinari Foundation collection. During this time, Molinari may have revisited this series on canvas while he was working with a commercial printmaker to produce three serigraphs with multicoloured thin stripes.

Sans titre is composed of 16 bands in a seemingly random order of hues, but with great mechanical precision in their application. Each saturated colour was individually applied by a roller on a canvas normally divided into distinct zones defined by masking tape. When you observe the work at length, you feel the rigidity of the composition vanish. As your eyes move from one colour to the next, you create potential associations, but this orchestra of hues disappears as quickly as it materializes. This painting does not boast any identifiable sequence of colours, which renders the chromatic movement even more dynamic. For this reason, Sans titre likely belongs to Molinari's unforgettable Rhythmic Mutation series. One good example of this type of work is Rhythmic Mutation No. 9 (1965), in the collection of the National Gallery of Canada.

Sans titre, like all of the paintings from this series, explores how colours perform when placed side by side across a surface, creating an emotional response in viewers as their eyes "read" the changing sequences of colour. As Molinari stated in 1972 to the Canadian Society for Colour in Art, Industry and Science: "Colour as such does not exist. There exists only formal structures that offer meanings, layers of meanings that are not carried by colours, but by forms-colours units…That does not mean that we do not have 'emotional' responses to colours. On the contrary. Emotional responses to certain juxtapositions of colours are the basis of the art of painting." To contemplate Sans titre in a comprehensive way is near impossible – it must be "read." François Marc-Gagnon explained this phenomenon in 1969: "Molinari invites his viewer to actually 'read' his painting…Because of the very movement of reading the perception of each colour is laden with the perception of the previous one, or at any rate, with traces it has left in memory." Overall, Sans titre is a perfect example of Molinari's "pure plastic event."

We thank Lisa Bouraly, a curator and researcher in museum studies, for contributing the above essay. From 2013 to 2017, she served as curator and collection manager at the Guido Molinari Foundation in Montreal.


Estimate:
$25,000 ~ $35,000 CAD
Sold for:
$85,250 CAD (including Buyer's Premium)

All prices are in Canadian Dollars.
Although great care has been taken to ensure the accuracy of the information posted, errors and omissions may occur. All bids are subject to our Terms and Conditions of Business.