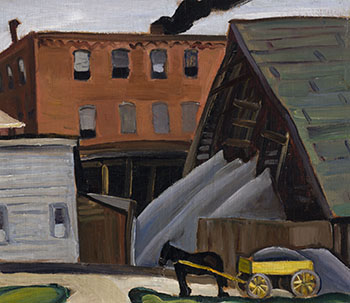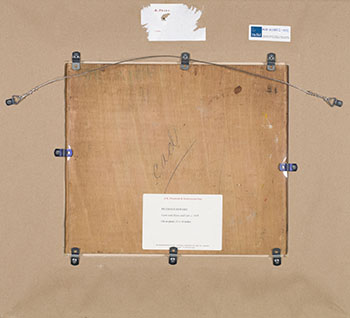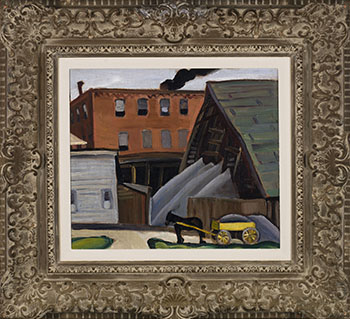 Lot # 138
Canadian, Impressionist & Modern Art Live auction

Efa Prudence Heward
BHG CAS CGP 1896 - 1947 Canadian

Farm Scene, Brockville
oil on board circa 1938
on verso inscribed variously and indistinctly
12 x 14 in 30.5 x 35.6cm

Provenance:
Family of the Artist
Sold sale of Fine Canadian Art, Heffel Fine Art Auction House, November 24, 2011, lot 189
A.K. Prakash & Associates, Toronto
Private Collection, Ontario

Literature:
Evelyn Walters, The Women of Beaver Hall: Canadian Modernist Painters, 2005, pages 49 and 51
A.K. Prakash, Independent Spirit: Early Canadian Women Artists, 2008, a discussion of the artist's work, pages 96 - 103

Prudence Heward was a member of Montreal's Beaver Hall Group, formed in 1920, and was known for both her strong figurative works and her landscapes. In the late 1920s and 1930s, modernist influences appeared in her work, which exhibited a bold sense of form and a rich colour palette. Art historian Paul Duval called her "one of the most sensitive painters this country has known" and Group of Seven painter A.Y. Jackson stated, "In my opinion, she was the very best painter we ever had in Canada…I wanted her to join the Group of Seven, but like the Twelve Apostles, no women were included." However, she was invited to show with them in 1928, to critical acclaim. In 1948, Heward was honoured with a memorial exhibition at the National Gallery of Canada.

Heward often painted at her family's summer place in Fernbank, near Brockville. In this outstanding painting, strongly modeled buildings create a looming, still presence animated by the waiting horse and cart and the stream of smoke. Light and dark contrasts invigorate the scene, with the bright yellow of the cart lighting a vivacious colour spark.


Estimate:
$15,000 ~ $20,000 CAD
Sold for:
$34,250 CAD (including Buyer's Premium)

All prices are in Canadian Dollars.
Although great care has been taken to ensure the accuracy of the information posted, errors and omissions may occur. All bids are subject to our Terms and Conditions of Business.