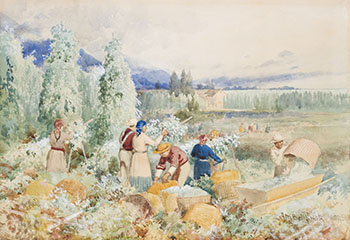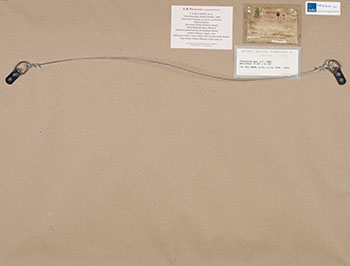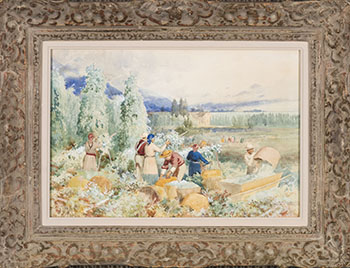 Lot # 156
Canadian, Impressionist & Modern Art Live auction

Frederic Marlett Bell-Smith
OSA RCA SCA 1846 - 1923 Canadian

Harvesting Hops, BC
watercolour on paper
signed and dated 1888 and on verso titled on the gallery label and inscribed "76.00"
13 1/2 x 19 3/4 in 34.3 x 50.2cm

Provenance:
Galerie Walter Klinkhoff Inc., Montreal
A.K. Prakash & Associates, Toronto
Private Collection, Ontario

Literature:
Roger Boulet, Vistas: Artists on the Canadian Pacific Railway, Glenbow Museum, 2009, page 144, titled as Harvesting Hops, reproduced page 144

Exhibited:
Manoir Richelieu Art Exhibition, Quebec, catalogue #3
Glenbow Museum, Calgary, Vistas: Artists on the Canadian Pacific Railway, June 20 - September 20, 2009, catalogue #14

In 1886, the Canadian Pacific Railway initiated train service from eastern Canada to the Rocky Mountains, and the company's president, William Van Horne, an avid collector and painter, decided to offer rail passes to artists, to paint the dramatic scenery being opened up to visitors. In 1887, Frederic Bell-Smith first traveled west to the Rockies on one of these passes; he returned in 1888, riding all the way to the coast, where he saw the scene that inspired this fascinating watercolour. Roger Boulet wrote, "For decades, the fertile area along the lower reaches of the Fraser River between Harrison Lake and Mission was planted with extensive hop growing fields. In the early days, many First Nations men and women were employed by the hop-growing farms in the Agassiz and Sardis area. The depiction of agricultural subject matter in British Columbia is uncommon among the artists who worked along the railway, but the subject was not neglected and the agricultural potential of the land is frequently mentioned by travelers' written accounts." This fine, large and detailed watercolour is a rare historical work from Bell-Smith's western oeuvre.


Estimate:
$15,000 ~ $25,000 CAD
Sold for:
$6,250 CAD (including Buyer's Premium)

All prices are in Canadian Dollars.
Although great care has been taken to ensure the accuracy of the information posted, errors and omissions may occur. All bids are subject to our Terms and Conditions of Business.