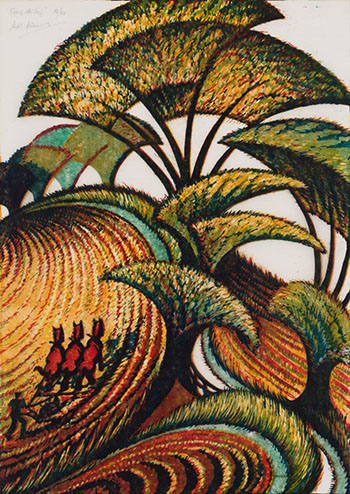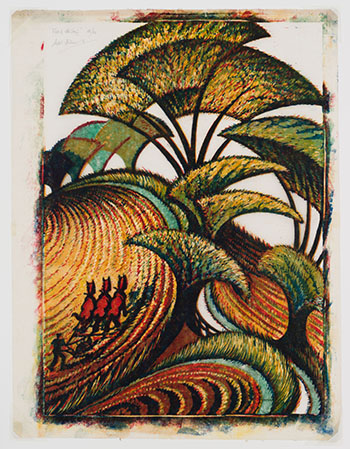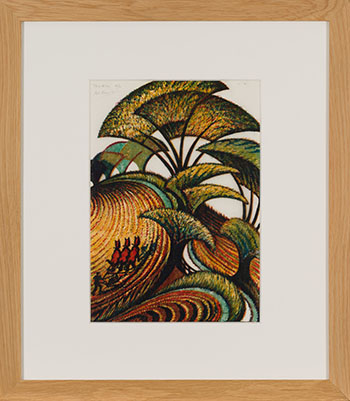 Lot # 103
Canadian, Impressionist & Modern Art Live auction

Sybil Andrews
CPE 1898 - 1992 Canadian

Fall of the Leaf
linocut in 5 colours 1934
signed, titled and editioned 57/60
14 1/4 x 10 1/8 in 36.2 x 25.7cm

Provenance:
Private Collection, Ontario
By descent to the present Private Collection, Ontario

Literature:
Peter White, Sybil Andrews, Glenbow Museum, 1982, reproduced pages 42 and 57
Stephen Coppel, Linocuts of the Machine Age, 1995, reproduced page 115, catalogue #SA 30
Clifford S. Ackley, editor, Rhythms of Modern Life: British Prints 1914 - 1939, Museum of Fine Arts, Boston, 2008, reproduced page 172
Hana Leaper, Sybil Andrews Linocuts: A Complete Catalogue, Osborne Samuel Gallery, 2015, reproduced page 77

Exhibited:
Glenbow Museum, Calgary, Sybil Andrews, 1982, same image, catalogue #30
Museum of Fine Arts, Boston, Rhythms of Modern Life: British Prints 1914 - 1939, January 3 - June 1, 2008, traveling to the Metropolitan Museum of Art, New York, September 23 - December 7, 2008, same image, catalogue #100

The 1930s and the economic difficulties of the Depression brought about social awareness of the changes affecting industry and labour. In the mid-1930s, Sybil Andrews was depicting rural farm workers, whom she observed near her native Bury St. Edmunds in England. The roots of Andrews's modernist approach were in the European movements of Cubism, Futurism and Vorticism. Dynamic movement in modern life was a part of Futurism, and Andrews embraced this dynamism in her highly stylized linocuts, as in Fall of the Leaf, with its sweeping swirls of ploughed land, the curving rise of the hill and the spreading, fan-like trees. Dramatically patterned and strongly coloured, Fall of the Leaf makes an indelible impact. There is a kind of nobility in the farmer toiling with his team of horses, and a finely tuned aesthetic in the perfectly furrowed fields. Andrews depicts a scene roiling with energy, yet pulls all the elements of her image into a harmonic whole.

This is a fine impression with strong colours on thickish oriental laid paper.


Estimate:
$20,000 ~ $30,000 CAD
Sold for:
$34,250 CAD (including Buyer's Premium)

All prices are in Canadian Dollars.
Although great care has been taken to ensure the accuracy of the information posted, errors and omissions may occur. All bids are subject to our Terms and Conditions of Business.