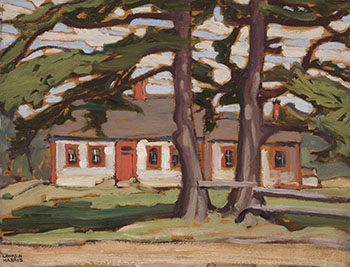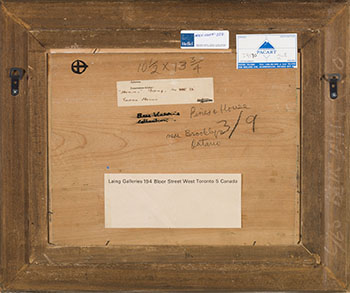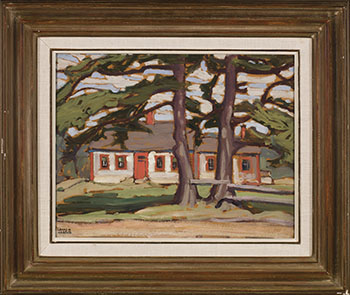 Lot # 127
Canadian, Impressionist & Modern Art Live auction

Lawren Stewart Harris
ALC BCSFA CGP FCA G7 OSA RPS TPG 1885 - 1970 Canadian

Houses Group No. IX
oil on board
signed and on verso titled on the artist's label and inscribed with the Doris Mills inventory #3/9 and "Pines & House, near Brooklyn [sic], Ontario" / "3/9" / "Bess Harris Collection" and wit
10 1/2 x 13 3/4 in 26.7 x 34.9cm

Provenance:
Bess Harris Collection
Laing Galleries, Toronto
Acquired from the above by the present Private Collection, Toronto, September 1, 1972

Literature:
Doris Mills, L.S. Harris Inventory, 1936, Houses Sketches, Group 3, catalogue #9, listed, location noted as the Studio Building
Paul Duval, Lawren Harris: Where the Universe Sings, 2011, page 102

During his early student years in Berlin, Lawren Harris had depicted the working-class neighbourhoods of that city. On his return to Toronto, his interest in urban subjects continued, and again he focused on working-class areas, most famously in the Ward district. However, he also produced more lighthearted "house portraits" of rural Ontario, and here depicts a habitation in Brooklin, a community in the town of Whitby. This bucolic scene exudes the kind of peace to be found in a rural area such as this; the pines spread their branches side by side, the house basks in the sun, and long ribbons of clouds float across the sky. Harris's brushwork is easy and fluid, and his colour choices are rich, particularly the orange of the door, window frames and chimneys. Houses Group No. IX is Harris's visual ode to the Ontario countryside, as embodied in his poem "Little Houses":

Dreamers ever leave you, little houses

In smug little villages and on easy hillsides,

Along lazy rivers and in sleepy valleys

Little houses tucked in little yards,

Behind low, white fences or busy green hedges…..


Estimate:
$90,000 ~ $120,000 CAD
Sold for:
$103,250 CAD (including Buyer's Premium)

All prices are in Canadian Dollars.
Although great care has been taken to ensure the accuracy of the information posted, errors and omissions may occur. All bids are subject to our Terms and Conditions of Business.