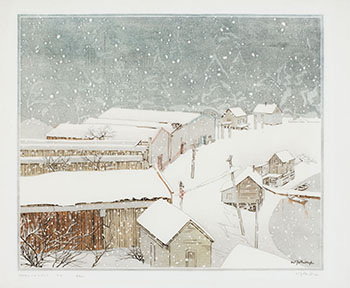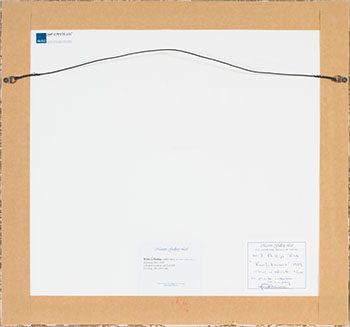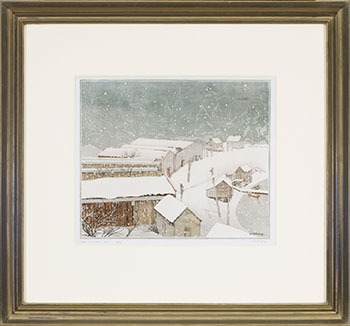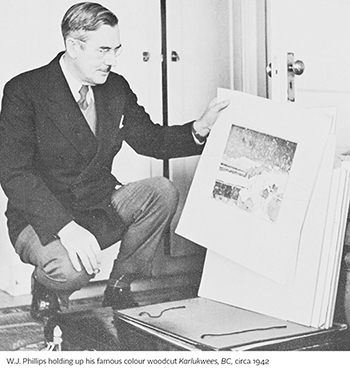 Lot # 101
Canadian, Impressionist & Modern Art Live auction

Walter Joseph (W.J.) Phillips
ASA CPE CSPWC RCA 1884 - 1963 Canadian

Karlukwees, BC
colour woodcut on paper 1929
signed and signed in the block, titled and editioned 2/100
10 1/2 x 12 1/2 in 26.7 x 31.8cm

Provenance:
Private Collection, Winnipeg
Masters Gallery Ltd., Calgary and Vancouver
Private Collection, Vancouver

Literature:
Duncan Campbell Scott, Walter J. Phillips, 1947, reproduced page 27
Carlyle Allison, The Art of W.J. Phillips, 1970, the 1927 watercolour and graphite sketch entitled Karlukwees, Village Island and the woodcut reproduced, unpaginated
Michael J. Gribbon, Walter J. Phillips: A Selection of His Works and Thoughts, National Gallery of Canada, 1978, reproduced front cover, the 1927 watercolour and graphite sketch entitled Karlukwees, BC reproduced page 64, the larger finished watercolour reproduced page 65 and a photograph of Walter J. Phillips holding an impression of the woodcut reproduced page 62
Roger Boulet, The Tranquility and the Turbulence, 1981, page 101, the related 1926 watercolour Myth of the Thunderbird (Karlukwees) reproduced page 101, the 1927 watercolour and graphite sketch entitled Karlukwees, Village Island and the woodcut reproduced pages 125 and 126
Roger Boulet, Walter J. Phillips: The Complete Graphic Works, 1981, reproduced page 319

Exhibited:
National Gallery of Canada, Ottawa, Walter J. Phillips, 1978, same image
Art Gallery of Greater Victoria, To the Totem Forests: Emily Carr and Contemporaries Interpret Coastal Villages, August 5 - October 31, 1999, same image, catalogue #55.26.59

In 1927, Walter J. Phillips took a sketching trip to the West Coast, visiting his sister at Alert Bay and then traveling by boat to the villages of Tsatsisnukomi, Mamalilicoola and Karlukwees, a small settlement on Village Island, at the entrance to Knight Inlet. He wrote, "We found another village – Karlukwees – more interesting than the others. The clean white beach had borrowed its shape from the new moon…Karlukwees provided many subjects for painting. In fact, never have I seen a more delectable sketching ground. I regretted leaving the coast, and I long to return." This exquisite woodcut is considered to be the finest in Phillips's woodcut oeuvre. Technically superb, with a composition perfectly in balance, the delicate impression of falling snow cloaking the village in stillness creates an unforgettable atmosphere of peace. The woodcut is also a poignant record of the village, as little remains of it today. In 1929, Karlukwees, BC was awarded a gold medal for best colour woodcut by the Society of Arts and Crafts, Boston. The National Gallery of Canada has two impressions of this woodcut in its collection.

This is a fine early impression from the edition.


Estimate:
$25,000 ~ $35,000 CAD
Sold for:
$49,250 CAD (including Buyer's Premium)

All prices are in Canadian Dollars.
Although great care has been taken to ensure the accuracy of the information posted, errors and omissions may occur. All bids are subject to our Terms and Conditions of Business.