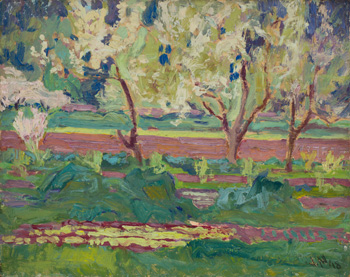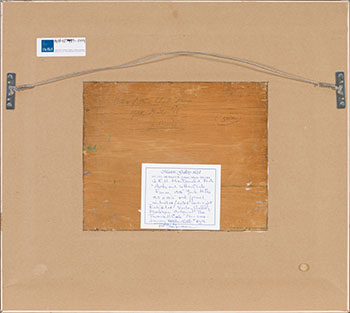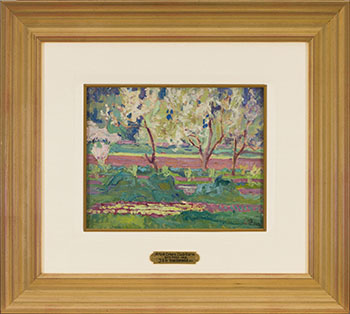 Lot # 153
Canadian, Impressionist & Modern Art Live auction

James Edward Hervey (J.E.H.) MacDonald
ALC CGP G7 OSA RCA 1873 - 1932 Canadian

Arts and Letters Club Farm, York Mills
oil on board
initialed and dated 1918 and on verso signed, titled, dated and inscribed "50.00"
8 1/2 x 10 1/2 in 21.6 x 26.7cm

Provenance:
Private Collection, Kingston, Ontario
By descent to a Private Collection, Toronto
Sold sale of Important Canadian Art, Sotheby's Canada, May 14, 1997, lot 148
Canadian Fine Arts Gallery, Toronto
Masters Gallery Ltd., Calgary
Private Collection, Vancouver

Literature:
The Thornhill Circle: J.E.H. MacDonald and His Associates, Varley Art Gallery of Markham, 2006, reproduced page 18, listed page 34

Exhibited:
Varley Art Gallery of Markham, The Thornhill Circle: J.E.H. MacDonald and His Associates, November 26, 2006 - January 14, 2007

In 1917, J.E.H. MacDonald had to rent out his house at Thornhill. He moved to the house of Mrs. Lucille Taylor at Usher Farm in York Mills, then a rural area close to Toronto, and stayed there for about 18 months. The neighbouring farm was rented out to the Arts and Letters Club, whose members cultivated it as part of the war effort. During this time, MacDonald suffered a crisis, and ill health forced him to curtail his activities, so he wrote poetry and painted the countryside around York Mills. The gentle landscape there had a healing effect, and he focused on pastoral subjects, such as this lushly painted scene of fields and fruit trees at the Arts and Letters Club Farm. MacDonald loaded his brush with oil, and his strokes of paint are thick and textured. Green is the dominant element in his palette, enlivened by dabs, lines and areas of blue, purple, maroon and pink. Through colour and energized paintwork, MacDonald expertly captures the glowing, vibrant nature of this cultivated land.

The Art Gallery of Ontario has the 1917 oil sketch Arts and Letters Club Farm, York Mills in its collection.


Estimate:
$30,000 ~ $40,000 CAD
Sold for:
$25,000 CAD (including Buyer's Premium)

All prices are in Canadian Dollars.
Although great care has been taken to ensure the accuracy of the information posted, errors and omissions may occur. All bids are subject to our Terms and Conditions of Business.