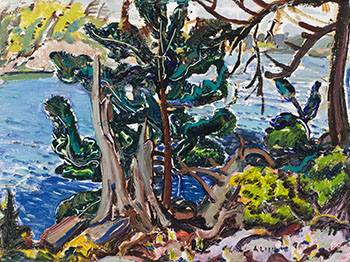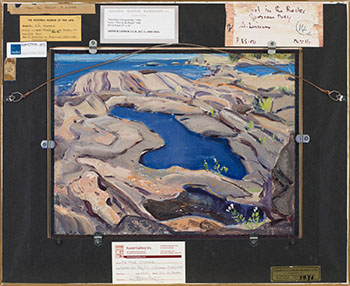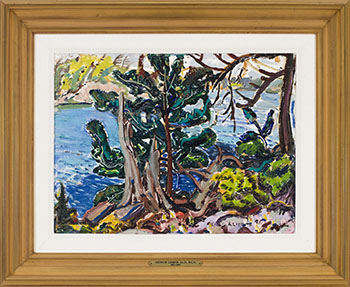 Lot # 107
Canadian, Impressionist & Modern Art Live auction

Arthur Lismer
AAM CGP CSGA CSPWC G7 OSA RCA 1885 - 1969 Canadian

Shoreline, Georgian Bay / Pool in the Rocks (verso)
double-sided oil on board
signed and dated 1946 and on verso signed, titled on the gallery labels, dated August 14, 1948 and inscribed "Gift from the Artist, 1951" on a label and "$85"
12 x 15 7/8 in 30.5 x 40.3cm

Provenance:
A gift from the Artist to Robert Buchanan and Theodosia Dawes Bond Thornton, Montreal, for lending Pines, Georgian Bay to the National Film Board for Lismer's biographical film, April 15, 1950
Estate of Theodosia Dawes Bond Thornton, Montreal
Sold sale of Fine Canadian Art, Heffel Fine Art Auction House, November 25, 2010, lot 161
Private Collection, Vancouver

Literature:
Evan Turner, Eleven Artists in Montreal, 1860 - 1960, Montreal Museum of Fine Arts, 1960
Theodosia Dawes Bond Thornton, Personal Art Collection Catalogue, reproduced, unpaginated, catalogue #R23
Lois Darroch, Bright Land: A Warm Look at Arthur Lismer, 1981, page 15

Exhibited:
Montreal Museum of Fine Arts, Eleven Artists in Montreal, 1860 - 1960, September 8 - October 2, 1960, catalogue #79

Only a hundred miles from the more gentle landscapes of southern Ontario was Georgian Bay, which Lois Darroch described as "like being on a different continent – the radiant air, the rocks, the endless expanse of turbulent water and sky, the magnificent sturdy stance of pine trees pitted against the wind." This country was a revelation for Arthur Lismer; he found it glorious and called it "a paradise for painters." This striking double-sided work encompasses two aspects of the Georgian Bay landscape: the visceral molded rocks of the Canadian Shield on the islets and at the shoreline, whose stony hollows and clefts collect small pools, and the iconic pine, here with a profusion of growth at its roots. To capture the vitality of this landscape, Lismer adapted his painting techniques. His paint became thick and highly textured, as seen on both sides of this work. Paint stands in ridges, moves in squiggles and long flowing lines, counterpointed by short, raised strokes on the forest floor that resemble thick, standing moss, transferring the vibrancy of Georgian Bay directly to our senses.


Estimate:
$30,000 ~ $40,000 CAD
Sold for:
$46,250 CAD (including Buyer's Premium)

All prices are in Canadian Dollars.
Although great care has been taken to ensure the accuracy of the information posted, errors and omissions may occur. All bids are subject to our Terms and Conditions of Business.