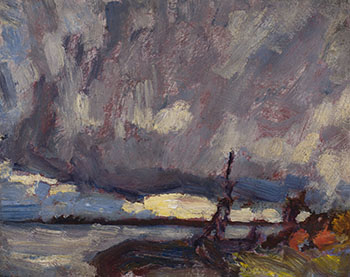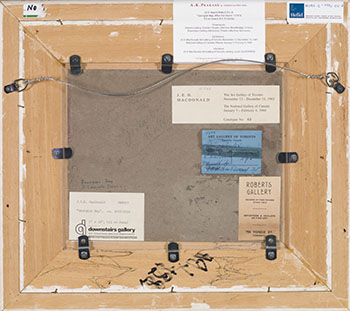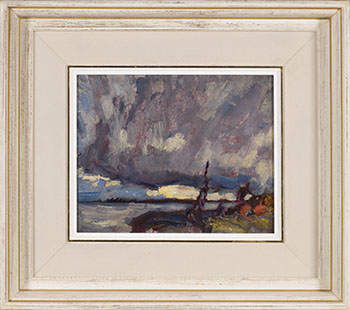 Lot # 105
Canadian, Impressionist & Modern Art Live auction

James Edward Hervey (J.E.H.) MacDonald
ALC CGP G7 OSA RCA 1873 - 1932 Canadian

Georgian Bay, After the Storm
oil on board
on verso titled Georgian Bay and titled variously on the gallery labels, dated circa 1915 - 1916 on the Downstairs Gallery label, and circa 1916 on the A.K. Prakash & Associates label and inscribed "J. MacD." / " '15 or '16" / "Georgian Bay, McCallum's Island"
8 x 10 in 20.3 x 25.4cm

Provenance:
Roberts Gallery, Toronto
Private Collection, Ontario
Downstairs Gallery, Edmonton
A.K. Prakash & Associates, Toronto
Private Collection, Vancouver

Literature:
Nancy E. Robertson, J.E.H. MacDonald, RCA, 1873 - 1932, Art Gallery of Toronto and National Gallery of Canada, 1965, reproduced page 49

Exhibited:
Art Gallery of Toronto, J.E.H. MacDonald, RCA, 1873 - 1932, November 13 - December 12, 1965, traveling to the National Gallery of Canada, Ottawa, January 7 - February 6, 1966, catalogue #63

Before Algoma, Lake Superior, and the Rocky Mountains were sources of inspiration for the artists who formed the Group of Seven, Georgian Bay was their principal landscape muse. Their home base in this area was often the cottage of ophthalmologist Dr. James MacCallum. MacCallum's patronage allowed Tom Thomson to become a full-time artist, and his co-financing of the Studio Building in Toronto provided working space and even living space to many of the Group. He not only opened his cottage to these artists (as referenced on verso), he also commissioned J.E.H. MacDonald, Arthur Lismer, A.Y. Jackson and Thomson to produce murals for its interior in 1915 to 1916, which are now housed in the National Gallery of Canada. The striking geography and dramatic weather of Georgian Bay sparked masterworks large and small from these artists. As expressed here by MacDonald, forceful, gestural brush-strokes communicate the area's ruggedness, and its immensity is articulated by the breaking light in the far distance, dwarfed by the imposing storm front dominating the composition. The immediacy this painting suggests is largely due to MacDonald's impressive skills as an on-the-spot painter.


Estimate:
$75,000 ~ $100,000 CAD
Sold for:
$109,250 CAD (including Buyer's Premium)

All prices are in Canadian Dollars.
Although great care has been taken to ensure the accuracy of the information posted, errors and omissions may occur. All bids are subject to our Terms and Conditions of Business.