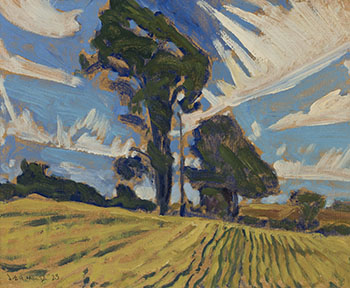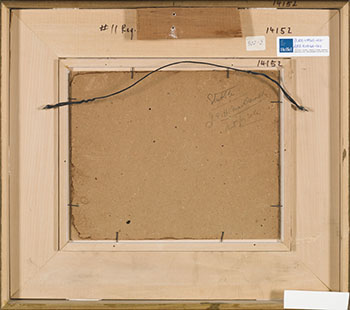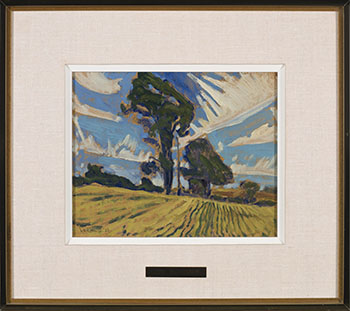 Lot # 154
Canadian, Impressionist & Modern Art Live auction

James Edward Hervey (J.E.H.) MacDonald
ALC CGP G7 OSA RCA 1873 - 1932 Canadian

Stubble
oil on board
signed and dated 1923 and on verso signed, titled and inscribed "Not for sale"
8 x 11 in 20.3 x 27.9cm

Provenance:
Estate of a Prominent Collector, Toronto
Sold sale of Canadian Art, Joyner Fine Art, May 16, 1989, lot 100b
Private Collection, Toronto

Literature:
Henry David Thoreau, Walden, 1854, page 236

"If one advances in the direction of his dreams, and endeavors to live the life which he has imagined, he will meet with a success unexpected in common hours."

- Henry David Thoreau

In 1921, J.E.H. MacDonald accepted a teaching position at the Ontario College of Art in Toronto, where he would be employed for the remaining decade of his life. He had previously attempted to devote all of his time to painting, but found the financial strain on himself and his family difficult. Painted two years after accepting his teaching role, this work shows the resonance to which MacDonald aspired throughout his life, inspired by Transcendentalist world views such as Henry David Thoreau's, after whom he named his son. The gestural, spiked flow of clouds in a dazzling sky, the long rows of the field, and the graceful forms of the trees anchored in ultramarine beautifully convey the reverberation of the natural world he sought to express. Although MacDonald experienced many difficulties in his life, the successes he accrued, exemplified in artworks such as this, can now be shared by us all.


Estimate:
$20,000 ~ $30,000 CAD
Sold for:
$34,250 CAD (including Buyer's Premium)

All prices are in Canadian Dollars.
Although great care has been taken to ensure the accuracy of the information posted, errors and omissions may occur. All bids are subject to our Terms and Conditions of Business.