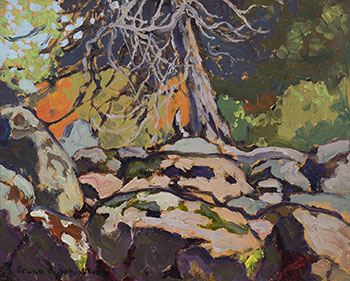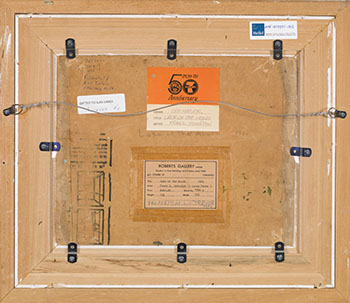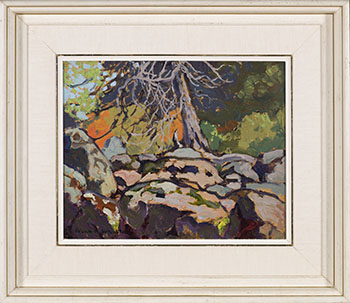 Lot # 106
Canadian, Impressionist & Modern Art Live auction

Frank Hans (Franz) Johnston
ARCA CSPWC G7 OSA 1888 - 1949 Canadian

Lake of the Woods
oil on board
signed Frank H. Johnston and on verso titled, dated 1921 and inscribed variously
10 1/2 x 13 1/4 in 26.7 x 33.7cm

Provenance:
Les Trevor, 1970
Roberts Gallery, Toronto, inventory #7786
Private Collection, Calgary
Private Collection, Ontario

Literature:
Group of Seven Fiftieth Anniversary, 1920 - 1970, Arts and Letters Club, 1970, reproduced, unpaginated

Exhibited:
Arts and Letters Club, Toronto, Group of Seven Fiftieth Anniversary, 1920 - 1970, 1970, titled as Northland, Autumn

This vigorous depiction of a landscape at Lake of the Woods was produced during Frank Johnstonís sought-after Group of Seven period. Johnston left Toronto in 1921 to become principal of the Winnipeg School of Art, and he stayed there for four years. Each summer he and his family rented a cottage on the shores of Lake of the Woods, across the bay from artist LeMoine FitzGerald and his family. Here Johnston was free to paint, evolving from the discoveries made during his participation in the Groupís earlier sketching trips to Algoma, in 1918, 1919 and 1920. This work embodies the Groupís fresh approach to landscape in Johnstonís vivacious and bold treatment of this hillside. From the rough and sculptural rock formations to the writhing branches of the tree at their apex, Johnston captures nature in its raw and unfettered state, emphasized by his textured brush-strokes. His palette goes beyond the strictly natural, with rich purples, pale blues and flesh tones in the rocks, along with touches of bright orange and peridot, suggesting the luxuriousness of a summer day.


Estimate:
$25,000 ~ $35,000 CAD
Sold for:
$23,750 CAD (including Buyer's Premium)

All prices are in Canadian Dollars.
Although great care has been taken to ensure the accuracy of the information posted, errors and omissions may occur. All bids are subject to our Terms and Conditions of Business.