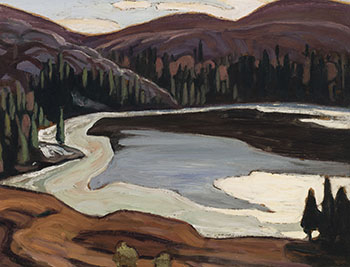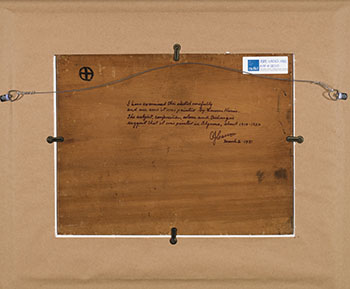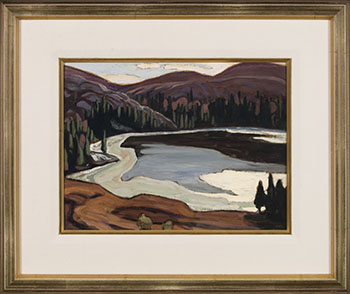 Lot # 148
Canadian, Impressionist & Modern Art Live auction

Lawren Stewart Harris
ALC BCSFA CGP FCA G7 OSA RPS TPG 1885 - 1970 Canadian

Near Lake Superior
oil on board circa 1922
on verso inscribed with the artist's symbol
10 3/8 x 13 7/8 in 26.4 x 35.2cm

Provenance:
Collection of Keith and Edith MacIver, Ontario
By descent to Laura B. Wheeler, Ontario
Estate of Laura B. Wheeler
By descent to a Private Collection, Ontario
By descent to the present Private Collection, Ontario

Literature:
Jeremy Adamson, Lawren S. Harris: Urban Scenes and Wilderness Landscapes, 1906 – 1930, Art Gallery of Ontario, 1978, a similar 1926 canvas entitled Northern Lake reproduced page 150
James King, Inward Journey: The Life of Lawren Harris, 2012, pages 147 and 148

On verso inscribed with the artist's symbol and by A.J. Casson on March 1, 1981: "I have examined this sketch carefully and am sure it was painted by Lawren Harris. The subject, composition, colour and technique suggest that it was painted in Algoma, about 1919 - 1920"

Although the inscription from fellow Group of Seven member A.J. Casson indicates Algoma subject matter for this Lawren Harris oil sketch, research indicates that the subject is more likely the inland country around the north shore of Lake Superior. A.Y. Jackson commented, "The Algoma country was too opulent for Harris; he wanted something bare and stark, so at the conclusion of one of our sketching trips he and I went to the north shore of Lake Superior…Inland there are intimate little lakes, stretches of muskeg, outcrops of rock…" This lake resembles one that is in the vicinity of Harris and Jackson's Port Coldwell campsite, and the style and size of the work is more consistent with early 1920s works from the Lake Superior area, as is the palette with brown and purple tones. Anchored by the strong central motif of a lake fringed with ice and shimmering with reflections in its cold surface of the surrounding molded rock formations and sky above, this is a stunning composition.

We thank Alec Blair, Director / Lead Researcher of the Lawren S. Harris Inventory Project, for assisting with research on this lot.


Estimate:
$100,000 ~ $150,000 CAD
Sold for:
$157,250 CAD (including Buyer's Premium)

All prices are in Canadian Dollars.
Although great care has been taken to ensure the accuracy of the information posted, errors and omissions may occur. All bids are subject to our Terms and Conditions of Business.