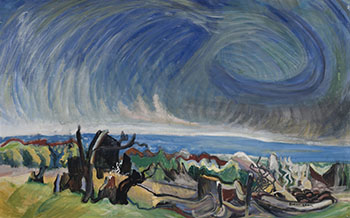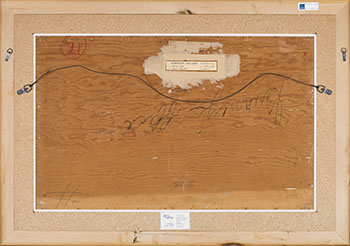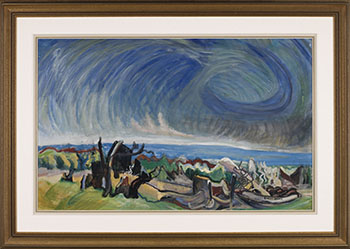 Lot # 119
Canadian, Impressionist & Modern Art Live auction

Emily Carr
BCSFA CGP 1871 - 1945 Canadian

Drift Highland
oil on paper on board circa 1935
signed and on verso titled on the gallery label, inscribed "Gurney's Office" and with the Dominion Gallery inventory #A126 and stamped with the Dominion Gallery stamp
22 1/2 x 36 in 57.2 x 91.4cm

Provenance:
Dominion Gallery, Montreal
Private Collection, Winnipeg
By descent to the present Private Collection, Ontario

Literature:
Doris Shadbolt, Emily Carr, 1990, page 185
Emily Carr, Hundreds and Thousands: The Journals of Emily Carr, 2006, pages 154, 292 and 329

Emily Carr could have been describing this scene when she wrote, "It's one of those days that blare. Sky high and blue, sun dictatorial, wind uncertain, puffing here, huffing there…" Drift Highland represents Carr's emergence from the forest into the open, where her subjects became logged-off hillsides, views to the ocean and driftwood thrown up on beaches. The cliffs of Beacon Hill Park and Dallas Road in Victoria and the gravel pits of Metchosin were her chief locations for these subjects.

Skies began to dominate, and with them, a feeling of freedom and exuberance. Depicting patterns of energy in the landscape was important to Carr, and she wrote in her journal on April 4, 1934, "I woke up this morning with 'unity of movement' in a picture strong in my mind. I believe Van Gogh had that idea...It seems to me that clears up a lot. I see it very strongly out on the beach and cliffs...Now it seems to me the first thing to seize on in your layout is the direction of your main movement, the sweep of the whole thing as a unit." It is intriguing that she also said, "People often connect my work with Van Gogh - compare it…he felt the 'go' and movement of life; his things 'shimmered.' " Some of Carr's skies included tight whorls like Vincent van Gogh's, such as the circa 1934 - 1935 oil on paper Metchosin, and in Drift Highland the culmination of the work is a large and loose whorl in the sky.

In Drift Highland, Carr has a number of different rhythms going on. In the foreground is the earth, and a tangle of logged stumps and driftwood thrown far up from the beach. Their contrasting shapes, from curly branches to solid logs, and directions - horizontal, diagonal and vertical - generate a sense of movement in their inert, sculptural forms. Then comes the horizontal sea, rolling languorously, flowing and serene, then the glorious sky, rising in a dramatic movement from the horizon, mists and clouds pulling upwards and curling over into a mighty whorl of motion.

Carr's expression of this great movement was facilitated by her discovery of the medium of oil on paper in the 1930s. She began to paint on manila paper using oils thinned with turpentine and even gasoline. This new medium allowed her to retain the richness of oil, but gave her the fluidity of watercolour. It facilitated her use of sweeping brush-strokes, which could spontaneously express the energy she perceived in the landscape. As Doris Shadbolt wrote, "Great sweeps of the arm could now be used as a means of capturing movement while the colour path of the brush retained its shape and direction without having to wait for the paper to dry. And so the strokes became forms of energy in themselves, units of direction, speed or strength." Carr used different effects, as seen in Drift Highland, ranging from light washes to denser pigmentation.

Drift Highland is a fine example of Carr's perception of the energy generated by all of nature, from land, sea and sky, which transformed her consciousness and her art. This experience of the universal was one she sought to experience, and express, again and again.



All prices are in Canadian Dollars.

Although great care has been taken to ensure the accuracy of the information posted, errors and omissions may occur. All bids are subject to our Terms and Conditions of Business.