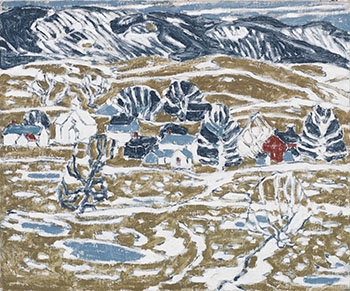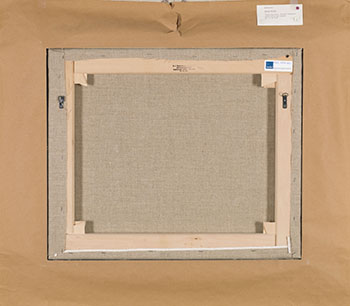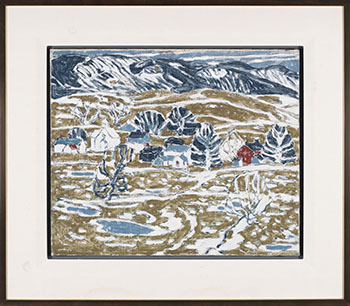 Lot # 120
Canadian, Impressionist & Modern Art Live auction

David Brown Milne
CGP CSGA CSPWC 1882 - 1953 Canadian

Snow Patches, Boston Corners
oil on canvas
on verso titled and dated 1916 / 1917 on the gallery label
20 x 24 1/8 in 50.8 x 61.3cm

Provenance:
Mira Godard Gallery, Toronto
Private Collection, Toronto

Literature:
Ian M. Thom, David Milne, Boston Corners: 1916 - 1918, Mira Godard Gallery, 1988, reproduced page 31
David Milne Jr. and David P. Silcox, David B. Milne: Catalogue Raisonné of the Paintings, Volume 1: 1882 - 1928, 1998, reproduced page 180, catalogue #107.79

Exhibited:
Mira Godard Gallery, Toronto, David Milne, Boston Corners: 1916 - 1918, March 17 - April 7, 1988, catalogue #20

Boston Corners, in New York State, is a small town adjacent to the Berkshire Hills that we see in the central part of this canvas. The hamlet had fewer than 100 people when Patsy and David Milne moved there in 1916. This was a dramatic change in scene from his previous years in vibrant New York City, but then Milne was from Bruce County in rural southwestern Ontario, and was in essence a landscape artist. He left Canada at age 21 to study at the Art Students League of New York (1903 to 1905). Here he came to know both American and European Impressionism, Post-Impressionism and Fauvism, movements that would shape his own unique approach to art-making.

Milne was successful in New York - his work was exhibited and noticed approvingly: City Rain of 1911 - 1912 (sold by Heffel in spring of 2017) is an excellent example. The best measure of this early acclaim was his participation in two of North America's most important exhibitions of avant-garde art in the early twentieth century: the famous Armory Show in 1913 (seen in New York, Boston and Chicago) and the Panama-Pacific International Exposition, held in San Francisco in 1915. Building on this momentum, his painting in the two years spent in Boston Corners (1916 to 1918) is some of the most esteemed of his highly productive career.

The visual excitement with which Milne imbues this pastoral scene emanates from the painting to this day. While colour is characteristically muted, it is also orchestrated in a satisfying and original combination of blues, browns and the whites of the snow patches in his title, and highlighted by several bold dabs of red. These bursts of colour describe chimneys on the village's houses. At the same time, and typical of Milne's daring modernism in the early twentieth century, they work with other colours and shapes to form an intricate, abstract whole across the surface. Both human and natural forms are rendered with Milne's signature use of outline and negative space. In the fan-shaped trio of conifers in the middle of the painting, for example, Milne uses an Egyptian manner of outlining trees; this treatment can be seen in the plaster cast of The Expedition to the Land of Punt from the Temple of Queen Hatshepsut, at the Royal Ontario Museum in Toronto.

Milne painted constantly during his years at Boston Corners. Some works draw us up very close to natural forms (Drying Waterfall, 1916, sold by Heffel in spring of 2013, is a good example). Snow Patches, Boston Corners exemplifies his other habit, which was to depict a sweeping scene, a panorama of landscape and town. Remarkably, Milne conveyed intimacy through both modes of seeing. We know that he walked and skied these hills; his quick touch conveys that sense of vitality. Although he was first appreciated in the USA and then in Canada, Milne's reputation is increasingly international. The major exhibition David Milne: Modern Painting showed at the famed Dulwich Picture Gallery in London, England, in 2018, helping to establish the international reputation that Milne's work deserves.

We thank Mark Cheetham, Professor of Art History at the University of Toronto and author of Landscape into Eco Art: Articulations of Nature Since the '60s, for contributing the above essay.


Estimate:
$250,000 ~ $350,000 CAD
Sold for:
$301,250 CAD (including Buyer's Premium)

All prices are in Canadian Dollars.
Although great care has been taken to ensure the accuracy of the information posted, errors and omissions may occur. All bids are subject to our Terms and Conditions of Business.